Focus on Material – BRASS
Our blogposts on materials is a deep dive into the raw materials that make up all the pieces that we love and adore in our homes.
The Scandinavian Style is centered around letting the raw materials shine and be the heroes of the design stories. What better way for us to honor that than to actually get to know these materials, where they come from, how they are made and what characterizes them.
This week we are digging deep into one of my favorite materials and metals when it comes to the smaller accent pieces in our home. We focus on BRASS. It is a material that brings both a warmth and a sense of understated elegance whenever it's added to a space.
So let's get right to it, shall we?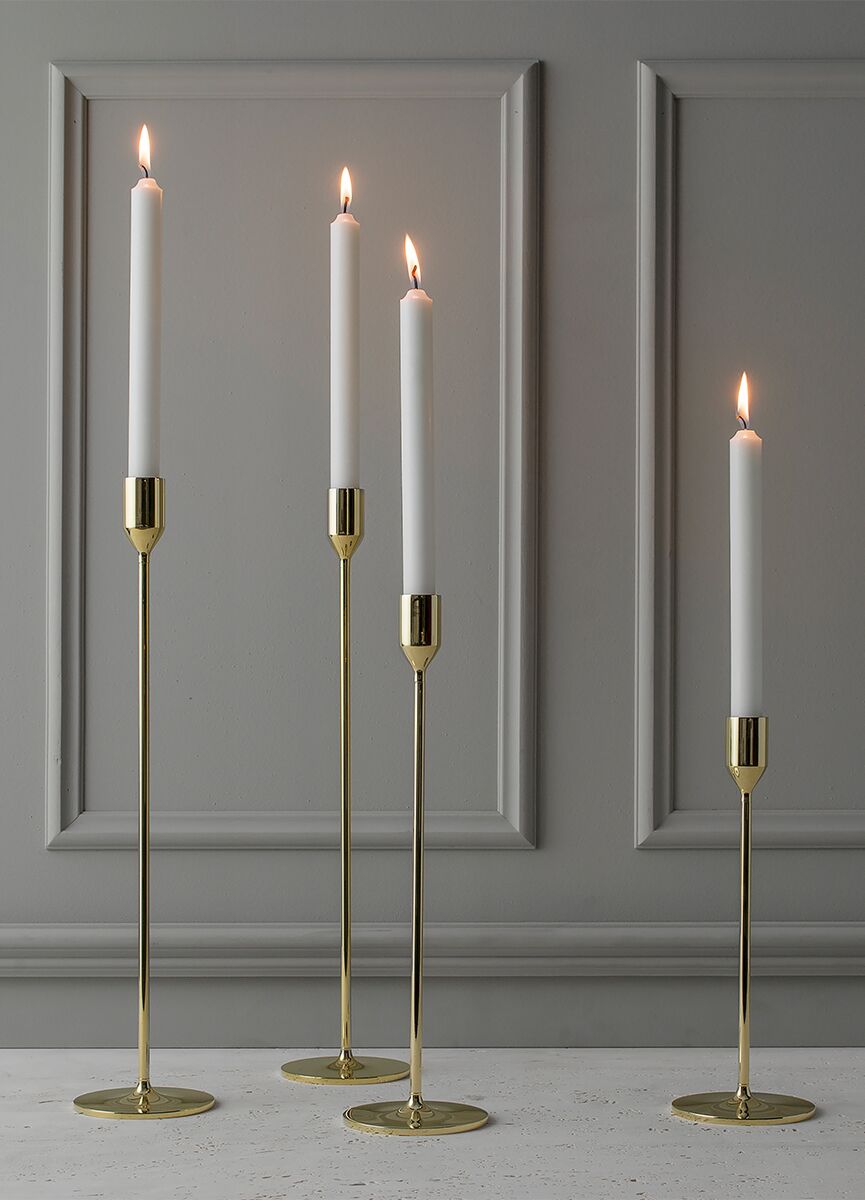 What Characterizes the Material?
Brass is a metal that is characterized for it's close resemblence to gold. It is however, a much cheaper and durable material. Brass has a bit of a weight to it. That makes it easy to feel the difference between a "fake" golden colored decor item and something made out of real brass. Another thing that characterizes brass is that outdoor exposure gives it a beautiful pale green color. You would recognize this from rooftops especially around Europe. Contrary to what one would think, this patina actually preserves the metal and makes it very durable. When using brass you will not have to worry about the metal rusting away like iron or steel would.
Different alterations of Brass?
Brass can come in many different alterations. It can range from High Gloss to Brushed Brass to name a few. But apart from the topical alterations and finishes – what makes the biggest difference in the for Brass the percentages between Copper and Zink as it is made. Another metal that is often mixed up with Brass is Bronze. Although they are similar in some ways, what they are made of is different. Bronze is also made with Copper as the main metal, but is mixed with Tin as the secondary metal. This makes bronze a completely different metal.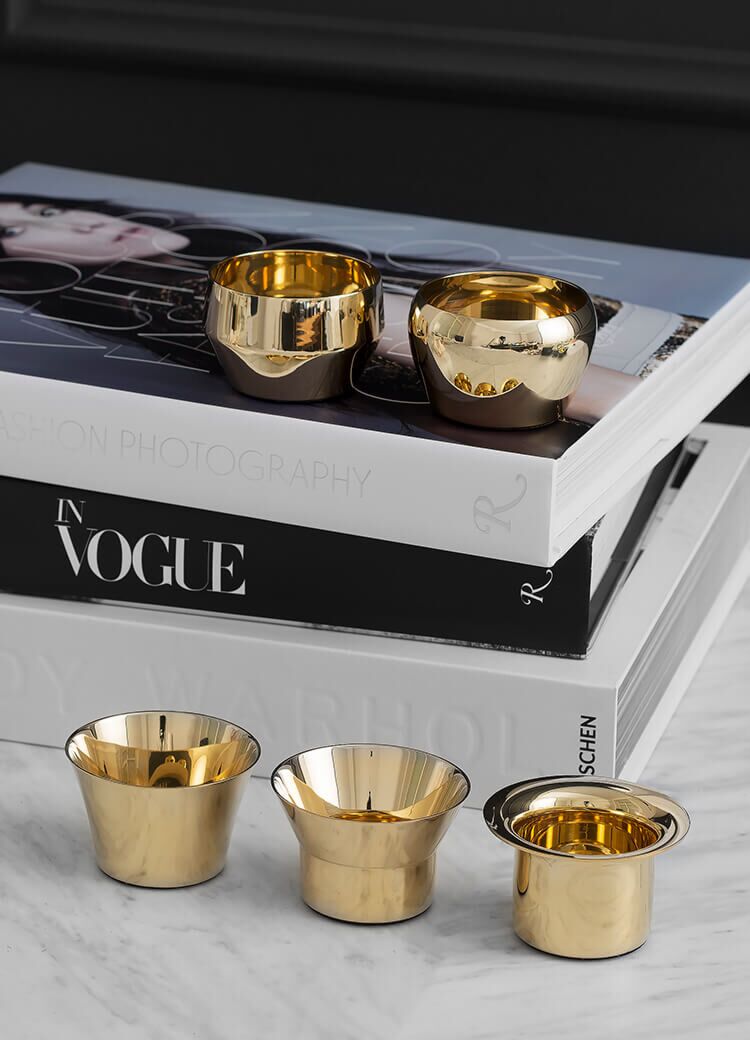 What it's made of
Brass is what's called an alloy metal. That means it is made out of a combination of metals with one or more elements. It this case it is a mix of Copper and Zink. Another great example of an alloy is white gold which is essentially a mix of gold and silver. Depending on the ratio of copper and zink different kinds of brass is made for different usages. The amount of copper in the mix is ranging anywhere between 55-95%. This mix is the one that has the most gold like coloring. The more Zink that's added, the less golden the zink will look. Brasses with a higher amount of Zink are more yellow. They are also stronger and more durable, but at the same time harder to shape and has a lesser corrosion resistance.
How it's made
Here is a simplified version of what the process of making Brass looks like:
Copper and Zink are placed in a molten metal and is heated until it melts and mixes together. It is poured into brass molds and allowed to cool down. After that the brass molds are taken through different processes to be shaped into either plates, sheets, rods or wires.
The first process to get there is called hot rolling. The mold is heated up at a very high temperature before the brass is being thinned out by going through a series of metal rollers.
Next up is what's called annealing and cold rolling. The brass needs to be heated again to be workable. Then it goes through another set of metal rollers until it reaches the desired thickness. This time it is done at a much lower temperature, hence the name cold rolling.
A last cold rolling takes place to tighten the surface or give it a smooth finish before it is cut to length, coiled up and sent off to the warehouse.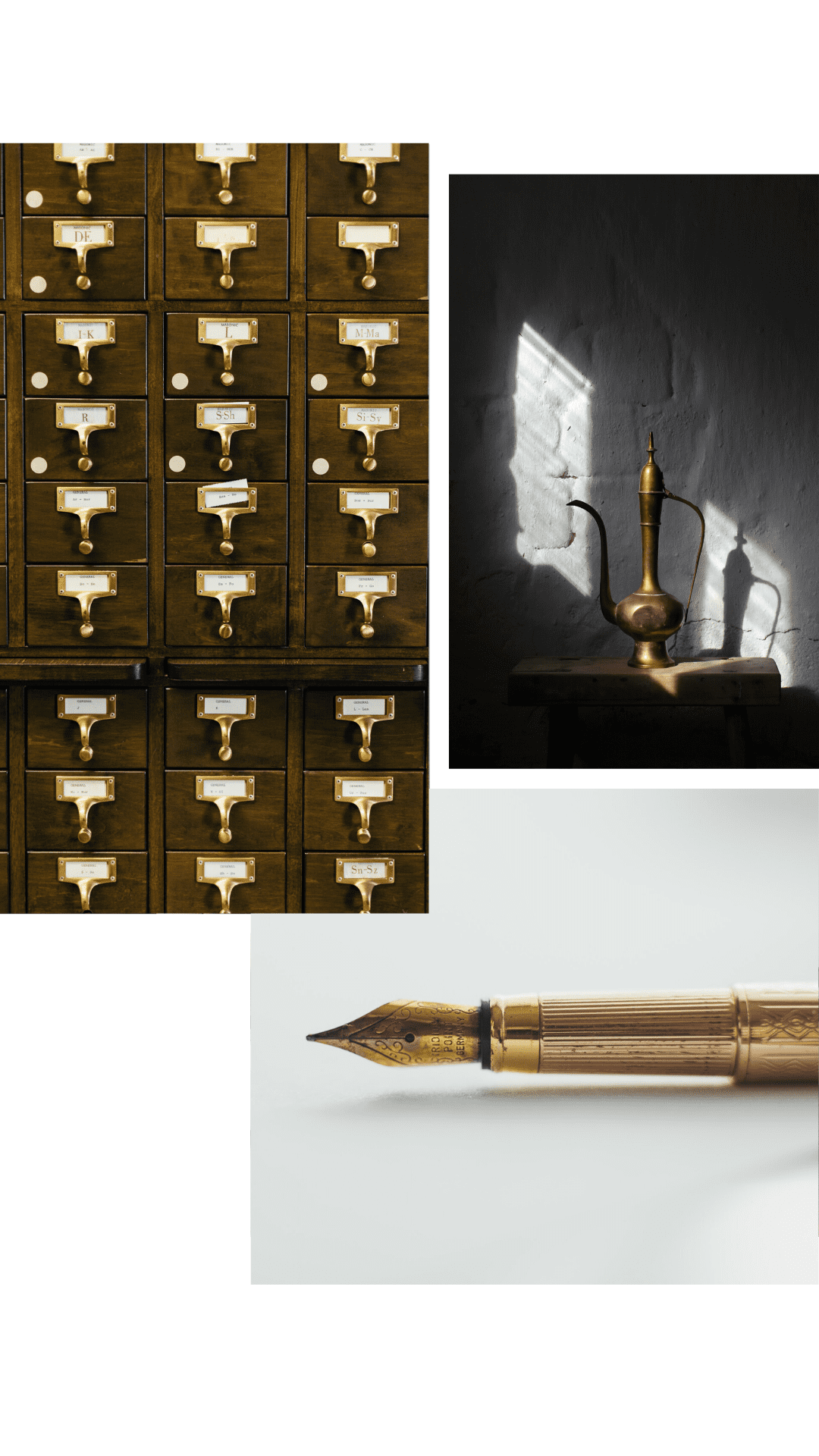 The History of Brass:
We can't have a post with a Focus on Brass without talking about the history of the material. Forms of Brass have been used since 500 BC so this metal has been around a very long time. But the form of brass we know today – being a mix of specifically copper and zink dates back to the post medieval period. It was introduced to Europe in the 16th century.
Apart from being used in a decorative way which is our main focus here, brass has and is still being used in many other different ways. It is used in electrical plugs and sockets, in locks, hinges, gears and zippers. It is used in instruments, as well as piping and plumbing fittings.
How to take care of your Brass: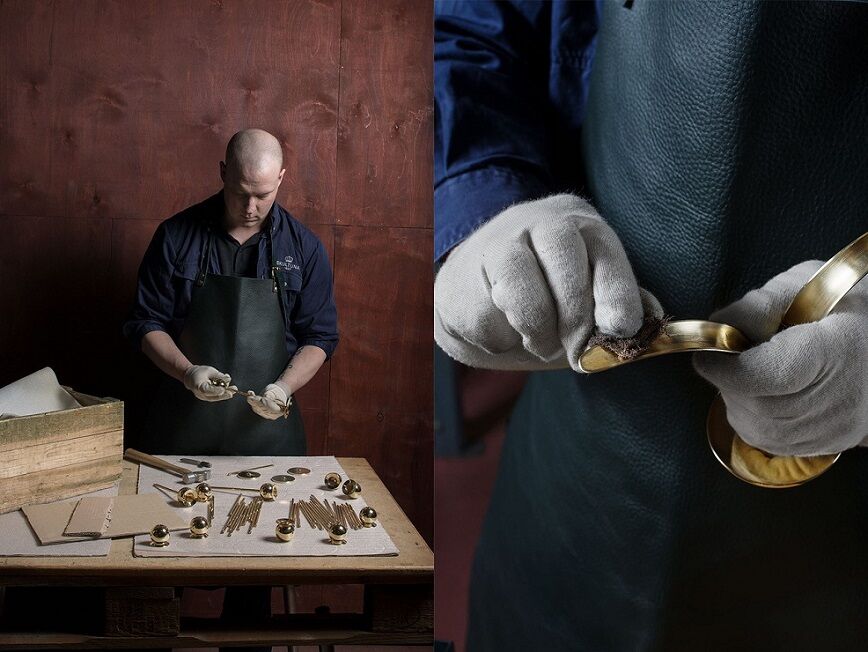 Both Brass and Copper are living materials that oxidize with time and needs some TLC to keep their shine. The oxidization of brass is what protects the metal and prolongs it's life span, so if oxidation happens on the inside of a vase for example – leave it like that. It actually helps protect it. When oxidization happens on the outside, it is up to your personal preference if you want t polish it or not. Brass naturally darkens over the years and grease, water or fingerprints often leave stains on the surface. It's good to remember that f you like the high – gloss look of your brass, you will need to polish it regularly to keep it like that.
Here is how you care for different kinds of brass:
Polished Brass: a gentle non-abrasive metal polish is preferred. depending on your brand the instructions for how to do this may vary. it is recommended not to use a water soluble polish as the water in it may leave stains if you don't dry it very carefully. A gentle non-abrasive metal polish is preferred. depending on your brand the instructions for how to do this may vary. it is recommended not to use a water soluble polish as the water in it may leave stains if you don't dry it very carefully.
Gold Plated Brass: This you should wipe with a dry cloth. If it needs a polish you can use a car wax, for example turtle wax.
Silver Plated Brass: Use a gentle metal polish on a dry cloth
Brushed Brass: On the contrary to what's recommended for the polished brass, for the brushed brass it's recommended to use a water-soluble polish.
Etched Brass: Here it's also recommended to use a water soluble polish to make sure the polish doesn't get stuck in the etching.
REMEMBER:
Brass should Never Ever be put in a dishwasher, no matter what surface treatment it may have.
FUN FACT:
Copper, which is the main component in brass is long known as restricting the growth of microorganisms. This means that brass who is made up mostly of copper is basically a germ killing material. Tests have shown that doors with door knobs and handles made of brass are much less likely to encourage nosocomial infections than many other materials. Brass fittings is therefore an excellent choice for sensitive spaces and environments like hospitals.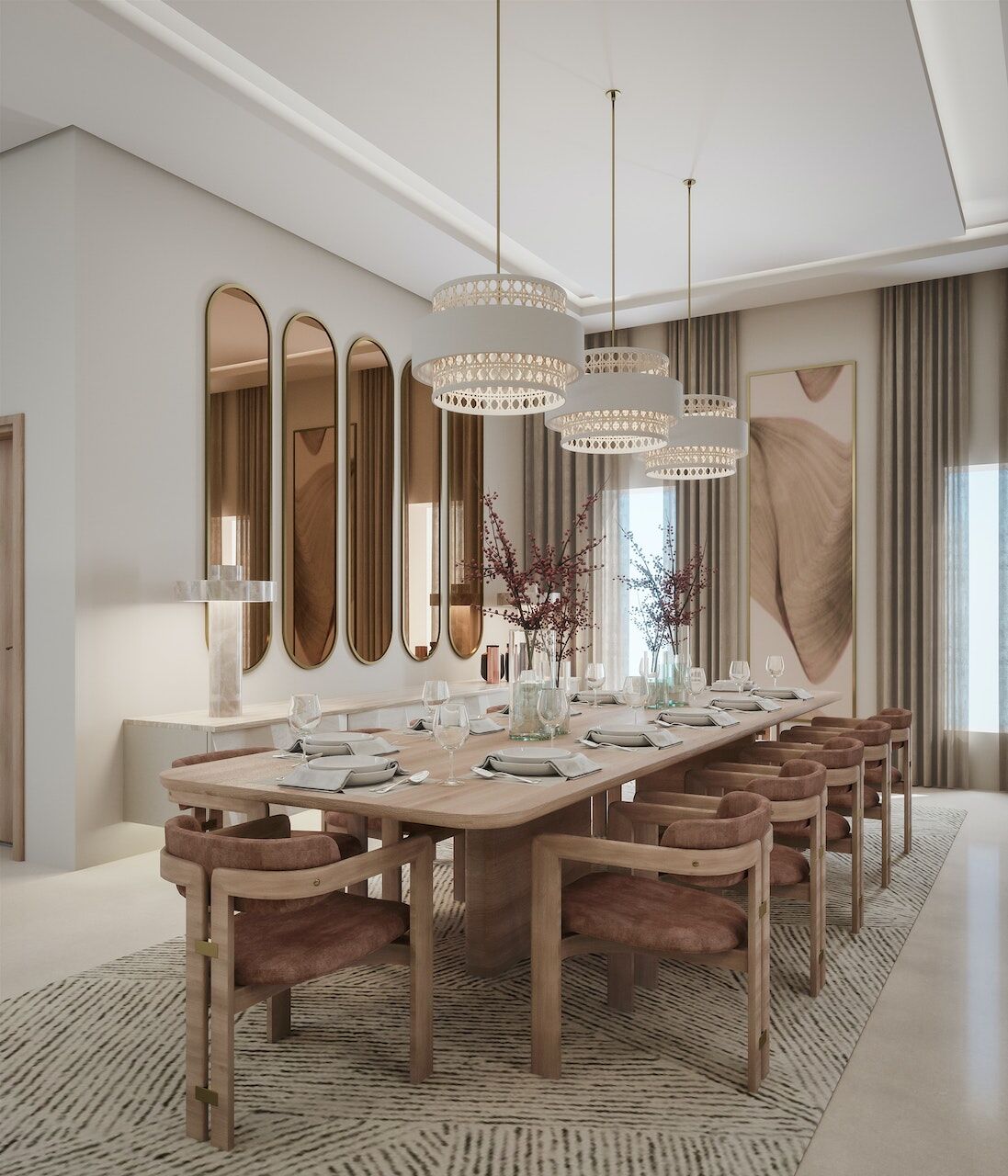 That is all for today.
Hopefully our Focus on Brass in this post helped you get a new love and respect for the brass pieces you own, and just as excited for this material as we are.
Until Next time,
Hejdå!
(goodbye in swedish)
// Josefine from Scandinavian Style House