The Sleek Modernist Style
As we are diving deeper into what characterizes Scandinavian Style and Design there is a topic we need to cover. It's the different sub styles available within the Scandinavian Style. As with any niche, once you start to look a little closer you notice the little differences within the niche. The one we will be focusing on today is the Sleek Modernist Style.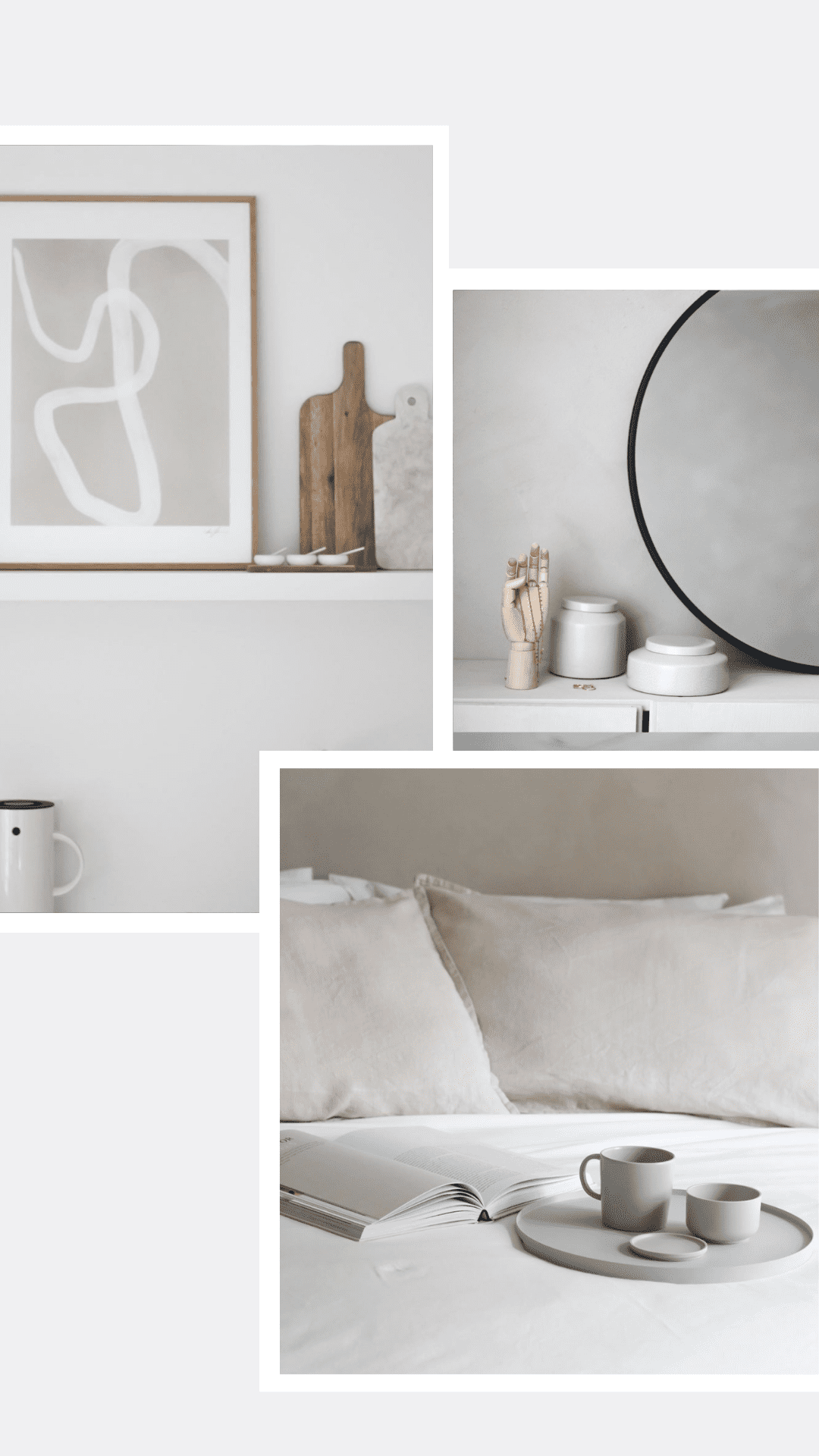 The photos above are by the beautiful and very inspiring Lari. You can find more from her in her instagram @larissaxmar. She is from Düsseldorf in Germany and has such a stunning minimalistic home.
The other Scandinavian Sub Styles
Just for you to be aware of what the two different Scandinavian styles and their sub styles are – here's a quick little overview.
The Rustic Countrysider ("The Minimalists" or "The Mix & Matchers")
The Sleek Modernist ("The Light & Airy" or "The Dark & Moody")
Don't look at these two styles and their inherent sub styles as constant "Either Or" categories but rather as a horizontal scale. One side of the scale of the rustic countrysider for example will be a bit more minimalistic, while the other side will have more mixed and matched pieces, and then there will be all sorts of combinations in between. Turning them into groups like this just makes it easier to talk about and show examples.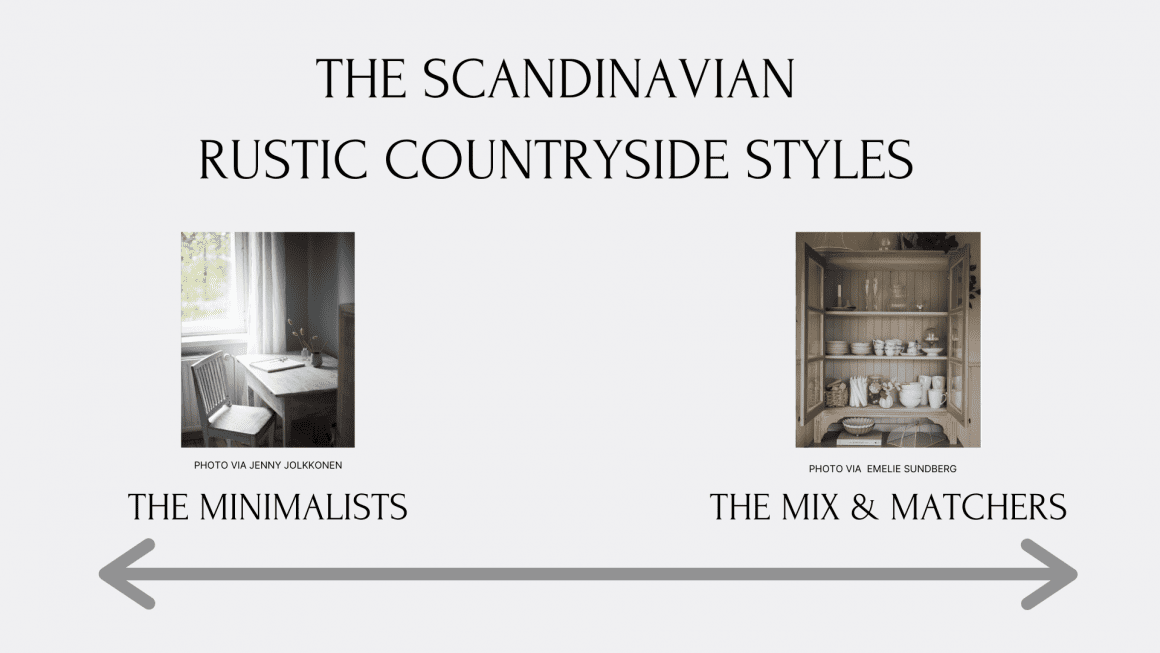 I absolutely LOVE each and every one of these styles with their own unique expressions. If you want to learn more about the Rustic Countryside styles I wrote a blogpost about it that you can find here.
But for today, let's dive into the Sleek Modernist Style shall we?
Core Values
The core values of this style is all about intentionality. It's about choosing quality over quantity and having fewer pieces. The ones you do have, are very intentionally chosen for both their form and function. You could sum it up and say that Less Is always More when it comes to the Sleek Modernist style.
Less is Always More
What Signifies this Style?
This style is signified by Minimalism, sleek shapes, neutral colors and natural textures. It is common to see a mix of some of the most popular Scandinavian brands like Hay, Ferm Living, Carl Anderson & Son etc.
Common Lifestyle Choices
What I often find with the people who have this style is that they are more aware of and interested in different designer pieces than for example someone with a more Rustic Countrysider Style. They would generally spend more money on a carefully selected designer piece. This goes for all kinds of design, not just interiors but also fashion and jewelery to name a few.
The driving force behind a Sleek modernist is sophistication, refinement and investing in timeless classics of high quality. That certainly doesn't mean that every single piece is a designer piece though. You often see a mix of designer pieces with cheaper Ikea options with the same look and feel.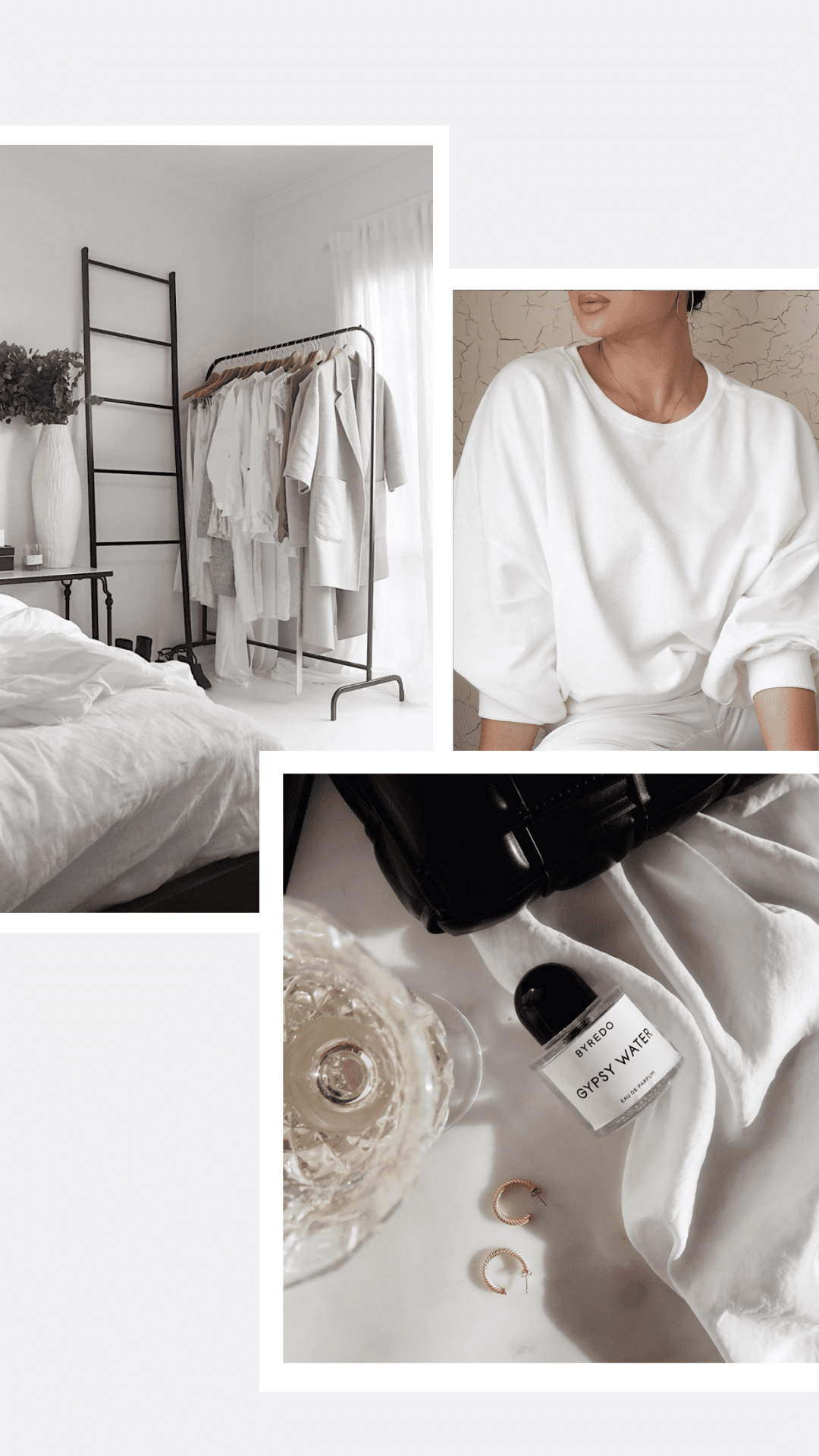 A Possible Origin of Inspiration
As I was thinking about the Origin of Inspiration for this style I couldn't help but think back on the history of the Scandinavian style. The 50's and 60's was when Scandinavian Interior Designers really started to appear on the international design scene. Designer names like Arne Jacobsen, Poul Henningsen, Greta Grossman and Hans Wegner were all active during that time and set the tone for what Scandinavian Design became known for. Sleek, minimal design, the interaction between form and functionality, and a high value for outstanding craftsmanship. Now decades later, these are still some of the main aspects that define Scandinavian design. In fact, some of these iconic designer pieces are still in production today, almost 60 years later.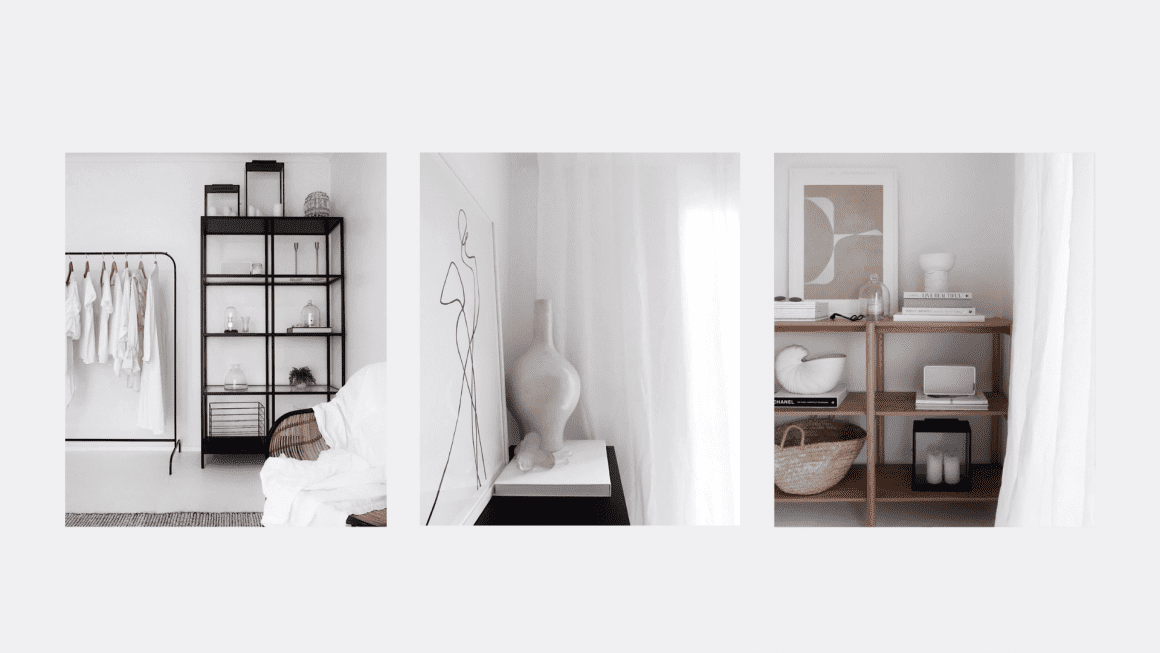 The 2 collages above are all photos by Jem from @juthamat_by_jem. She is an interior designer, blogger and youtuber from Australia that has the most gorgeous home.
Two kinds of Sleek Modernist Styles
Within the Sleek Modernist there are two kinds.
The Bright & Airy and the Dark & Moody.
The Bright & Airy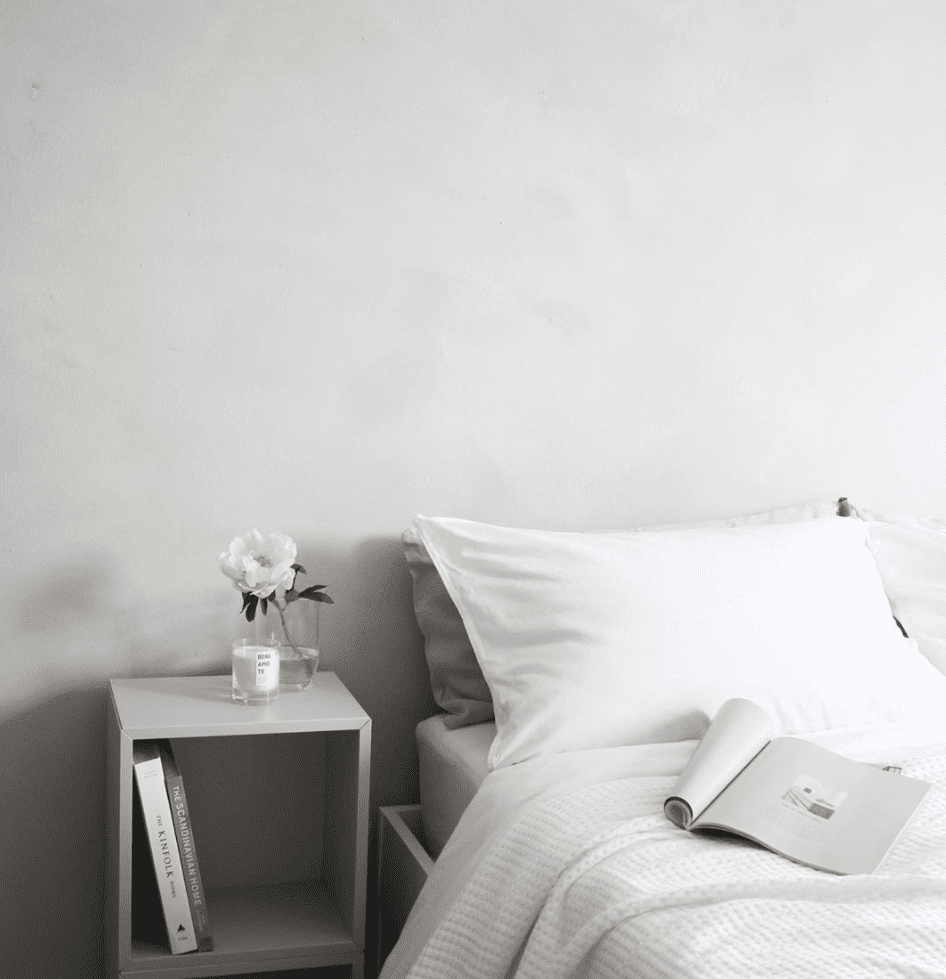 I would say this is the more popular one, and my own personal favorite. It is defined by combining lots of white, bright and light tones. The colors are still neutral but always on the lighter side. If anything is patterned it is most often a minimal and dainty pattern. Some like the monochromatic look of using the same color and just mixing different hues and textures, while others mix the different light hues together. I find both just as beautiful, and they make for a very peaceful and calming space. All the examples shown this far has been from this substyle.
The Dark & Moody
Just like the name gives it away, this is a sleek modernist look that is a lot darker and moodier. The colors are still neutral and earth toned but they are a lot darker and fuller, most often with black accents, darker wood stains or leather. Some may say the look of this style is a bit more masculine, and it definitely has a different, more rugged, raw and contrasty feel to it compared to the light and airy one.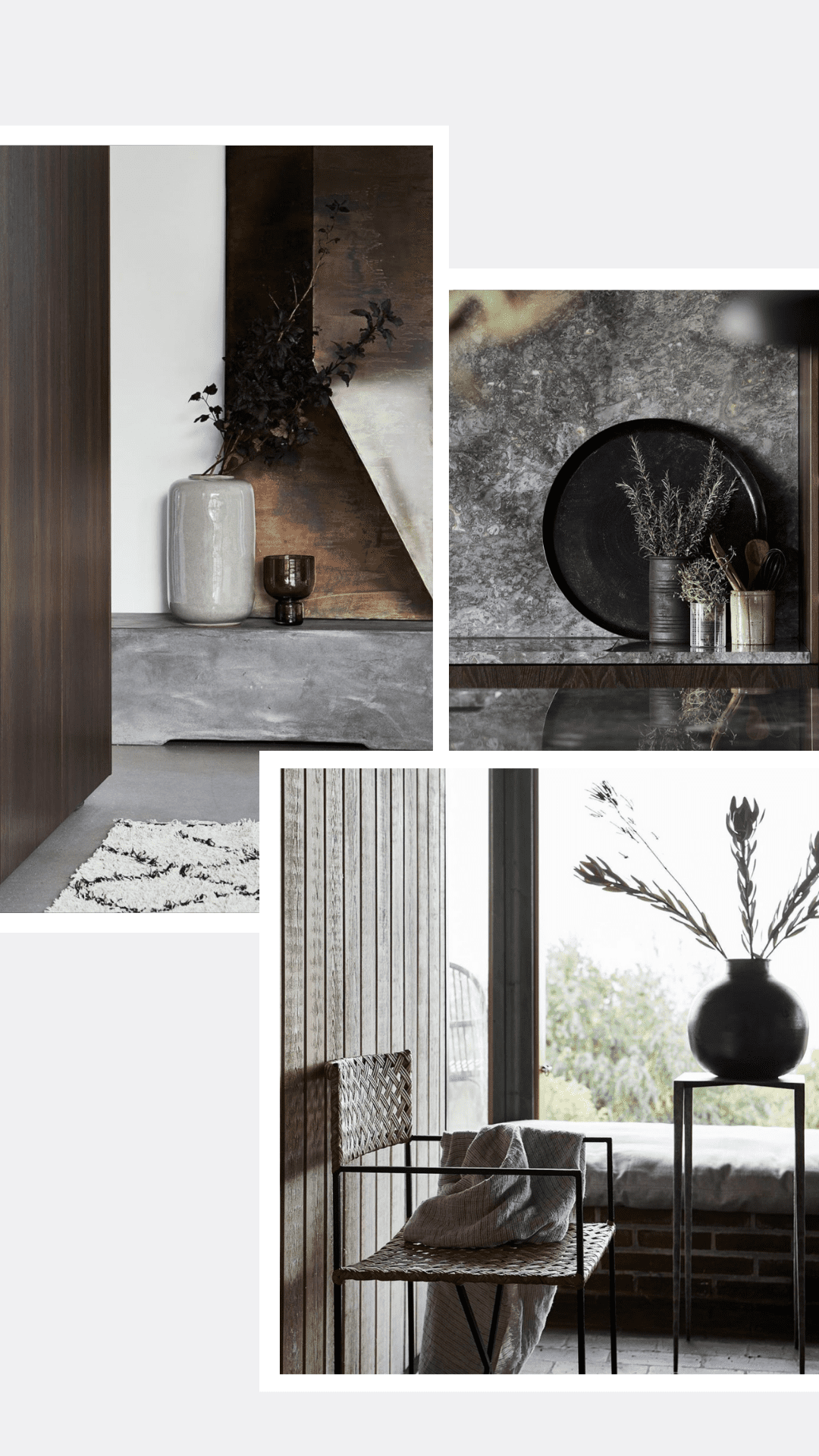 How to get this style today
To get this Sleek Modernist Style you can start by browsing some of the Scandinavian brands like Ferm Living, Hay, and Carl Hansen & Son. We've written a blog post about each and every one of them so feel free to check the links above out for initial inspiration. Decide if you wanna go bright and airy or dark and moody and find what pieces you love that fits into that style that you'd like to invest in. Then, you can go look for your "supporting pieces" at Ikea for example.
A Customization Tip
Something I just discovered recently is a company called BEMZ. They specialize in making customized couch covers, legs and handles to Ikea furniture. That's a really great way to both get a great price, and also be able to get some more options to make your couch or home more customized.
A Personal Story
When I moved into my last apartment in Stockholm – a tiny one room apartment, the bright and airy style was the one I went for. Since I had very little space everything I brought in and bought had to both have a purpose, and be beautiful. To make the room feel as big as possible I went for a mostly monochromatic white look, layering different textures of white. I also went for accent details in glass for my coffee cups and vases etc.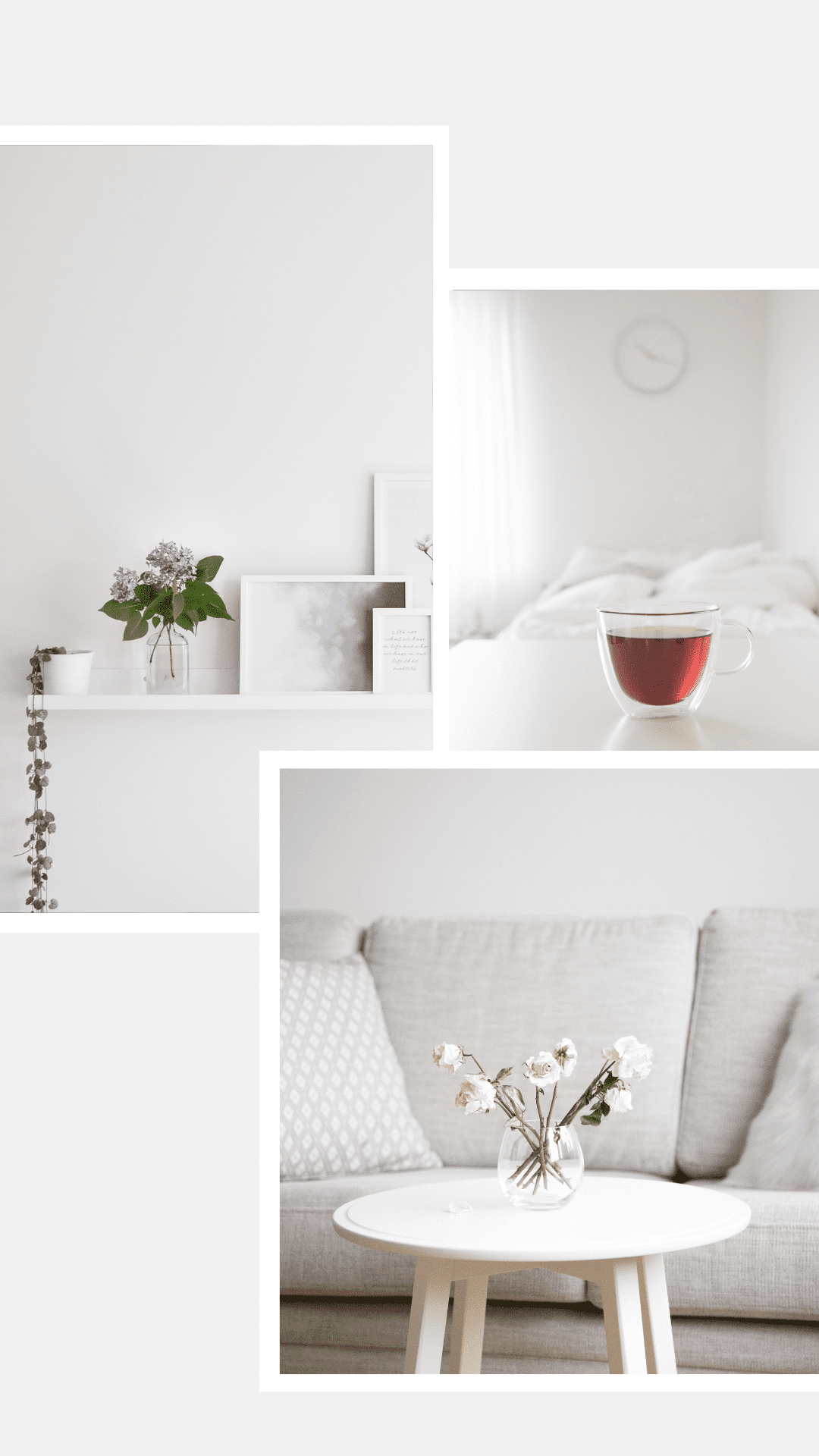 I hope this post about the Scandinavian Sleek Modernist Style inspired you, and that you got a deeper understanding for one of the nuances of Scandinavian Style.
Until Next time,
HEJDÅ,
(Goodbye in Swedish)
// Josefine from Scandinavian Style House