Personalized Organization with Nimble Interiors
Organization is a very important part of a minimalist lifestyle. This is a blogpost I've been wanting to do for a while. My friend Adina DeKramer is a great example of someone who knows how to organize a home. She is an interior designer in Salt Lake City, Utah and I am so excited to collaborate with her on this post. We are going to do a deep dive into "Personalized Organization with Nimble Interiors".
Adina will go through a few parts of your home that might benefit from a little extra organization. She will share about the mindset of how to organize depending on what your needs and preferences are and give three different suggestions for each topic.
Our approach in this keeps three key objectives in mind: the practical, the aesthetic and budget. That way, you can prioritize what is most important to you and what might be the best fit for your home.
Before we start talking about how to organize the different parts of your home, let me first introduce Adina and Nimble Interiors.
So let's get right into it.
Who is Nimble Interiors?
Hi there! My name is Adina DeKramer, and I'm the owner of Nimble Interiors. The heart behind what I do is to 'redesign a client's space to express their lifestyle.' This isn't just redecorating a living room or remodeling a kitchen— it's going into the depth of a space where every drawer and shelf serves a purpose and has a system. I like to rethink how they display their "stuff" so that it's working for them, not disrupting their flow.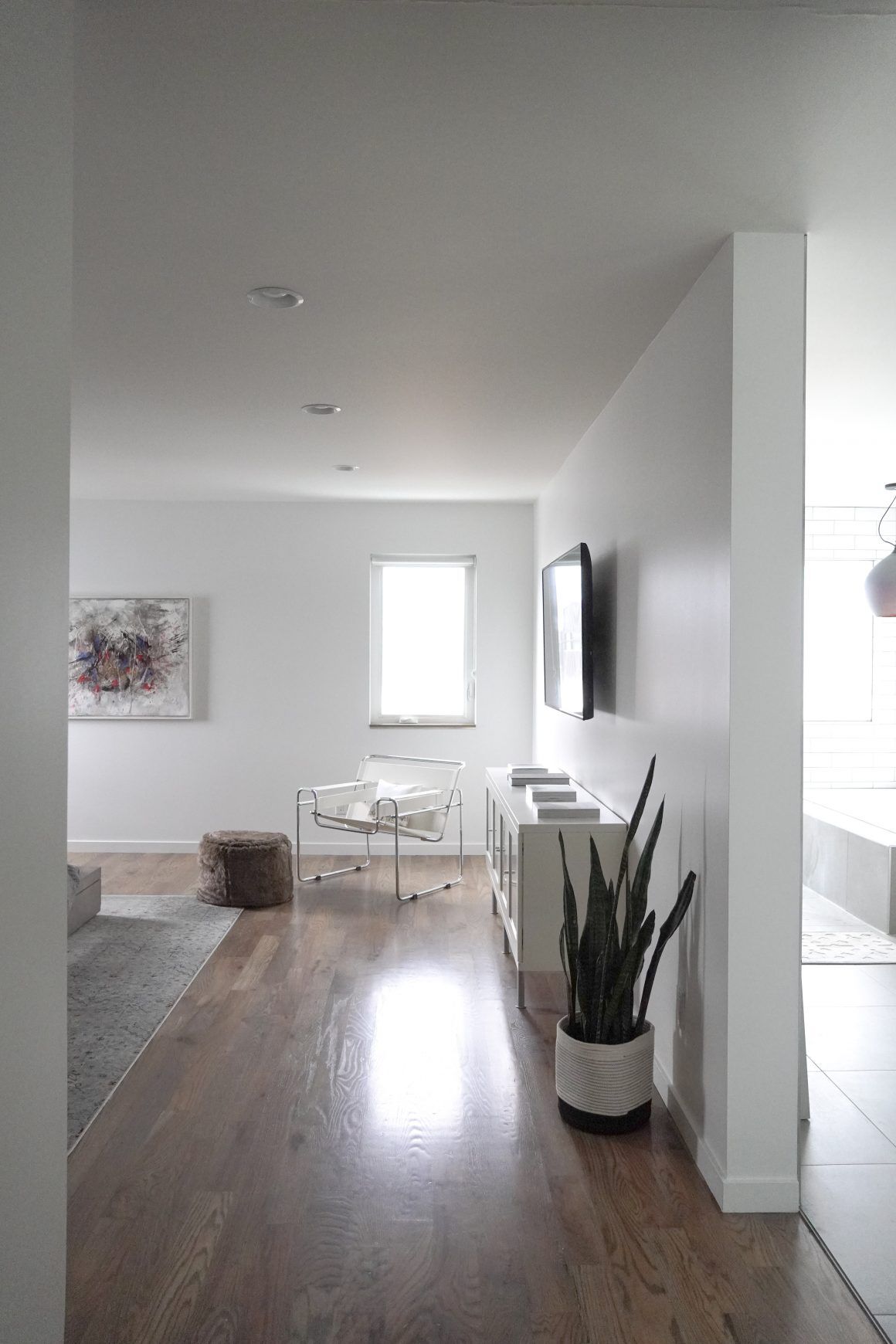 What I love most about designing is the creative process of a space unfolding and telling a story. It takes patience, time, and sometimes a little bit of courage to leave something looking 'unfinished'. If you hurry up and purchase things to fill a space, however, it'll often lack personality, you'll grow tired of trends and the 'you' factor that you were hoping to achieve in the first place goes missing. I don't want your home to look like the one you saw in a magazine. I want your home to look like 'you'. And just like it's taken years to develop 'you',.. well it's a similar deal with your home.
I always encourage clients to give their home the time and grace to become more like 'them' by embracing a minimal mindset; Only place things in your home that you absolutely adore and don't let things clutter your home that don't deserve to be there!
How did your passion for Organization start?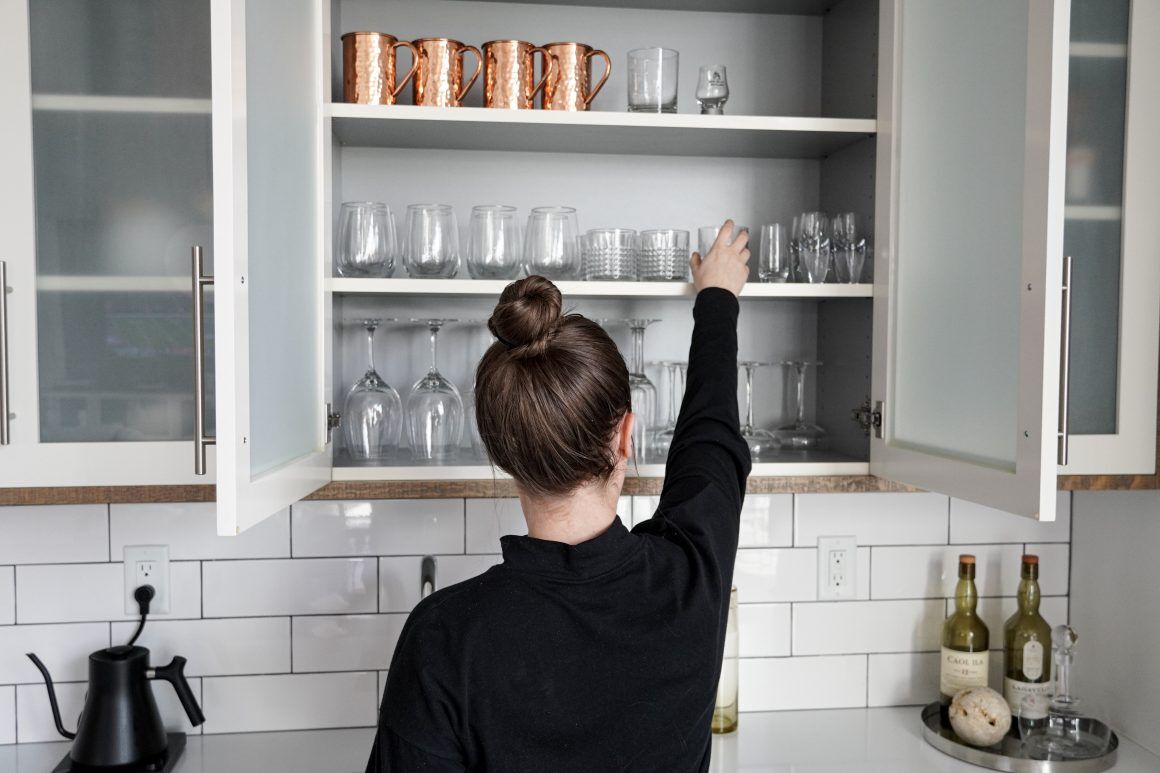 I used to live in a chaotic mess. My clothes were laying everywhere, there were constantly dirty dishes stacked to the sky, and there was never a countertop free of clutter. I was constantly running late, and found it hard to focus in my own home. I moved very frequently– almost every year, and within 5 years I lived on 3 different continents. At one point, I just had enough, where I got so tired of packing up, I decided the things I owned weren't worth my lifestyle. Back then, "minimalism" wasn't really popular yet, so I had to figure it out on my own. What made most sense to me, was that I would only keep what would fit into 1 large suitcase. To my surprise, it was one of the most liberating experiences I had decided to pursue!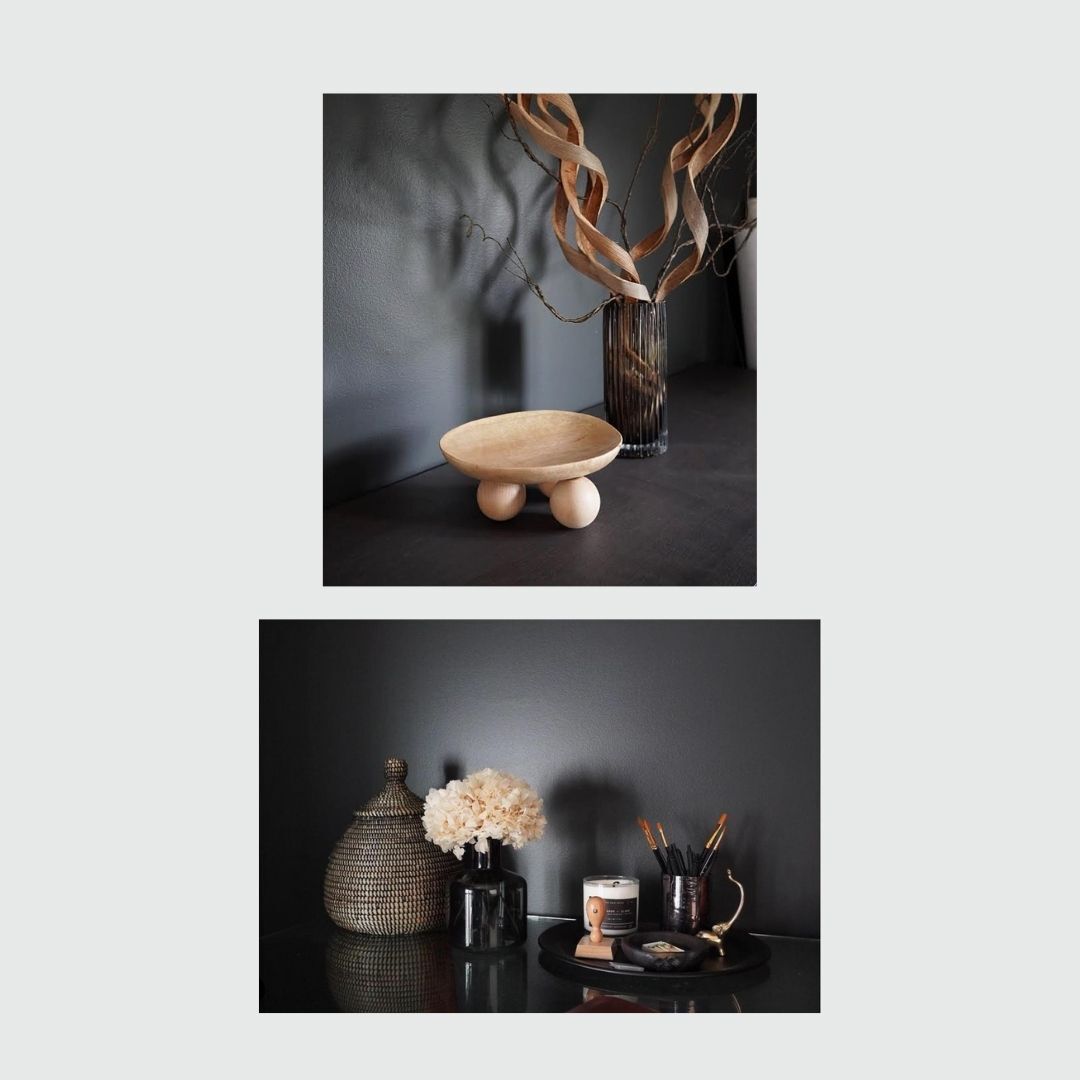 Here's what I did. I made 3 piles: The "keep" pile, the "maybe" pile, the "give away" pile.
The "keep" pile
necessities (clothes for 14 days)
toiletries
misc things (laptop, glasses, camera, sentimentals etc.)
The "maybe" pile
things that I know I didn't need but it gave me anxiety/ made me sad to think I wouldn't have anymore
The "giveaway" pile
clothes I hadn't worn in over 4 months (besides seasonal necessities)
doubles (Because no one needs two black pairs of chelsea boots)
things I liked but didn't adore, and would be happy to see my friends have or wear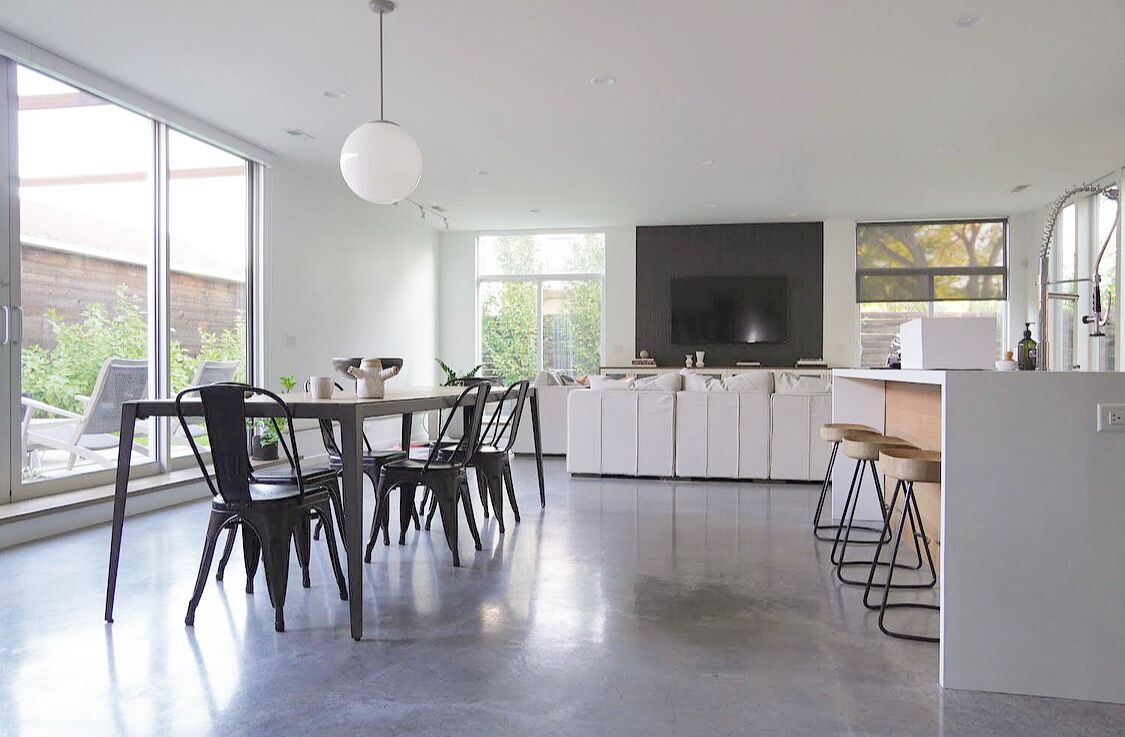 I asked my parents if I could store the "maybe" pile at their house, and I told myself that I would go there a few months later. The deal I made with myself was to stand in front of the closed box, and write down everything I remembered that was in the box, and re-evaluate if it was worth keeping. To my surprise, I did not remember a single thing that was in there and so everything went to friends or goodwill. Giving myself those few months really took the anxiety out of the experience.
I've since maintained a lifestyle of only owning things I love. If I need something, for example a new garlic press, I'll find the best and most aesthetically beautiful version of it, even if it takes a long time– it's worth it every time. Over years of accumulating lists of the best option of (especially kitchen) items, it becomes pretty easy to recommend things to clients, as I have gone through the painful hours of researching pretty much everything that goes in a home's drawer or cabinet.
What's the best way to organize a kitchen?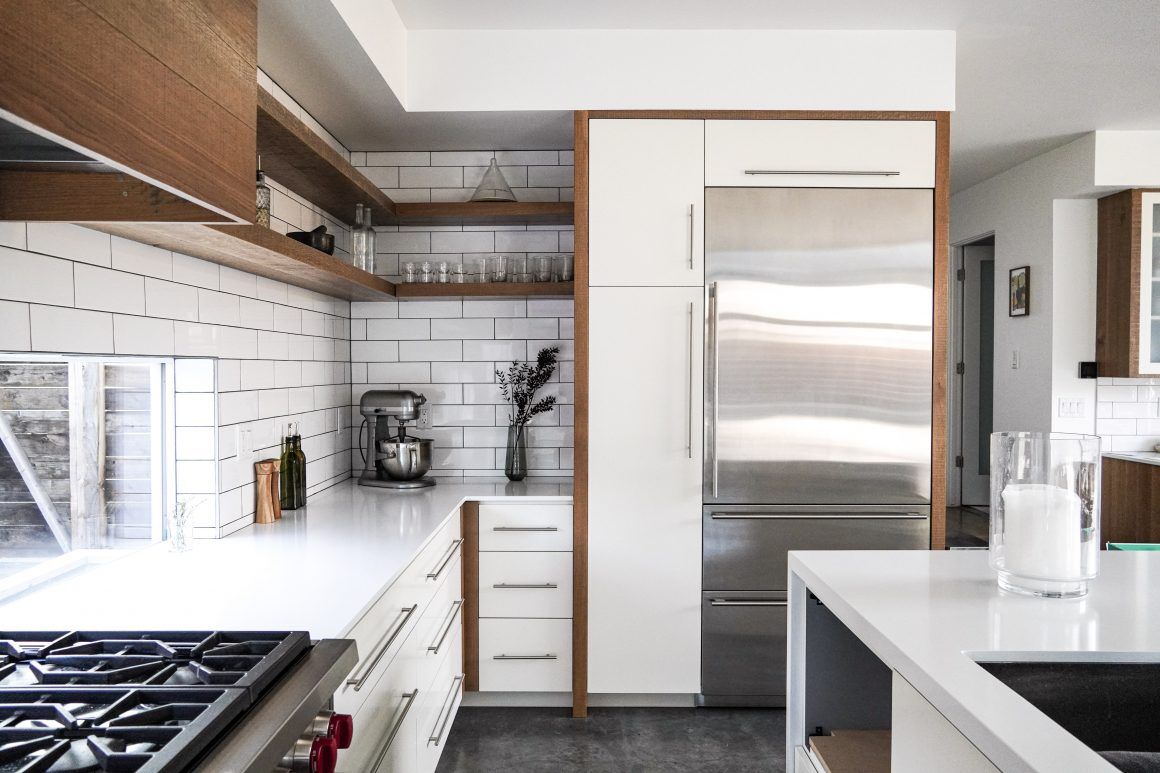 A great mindset to have when you organize your kitchen is to take some time to really think through what you use the most, and store it to cater to the flow of your cooking workspace. If you love baking, I would make sure all your baking tools are easily accessible and in close proximity to each other as well as close to your oven and main workspace. If you never bake, store your baking equipment in places harder to reach.
One of my clients had me reorganize her kitchen and what I noticed was that a lot of things that are rarely used were stored right by the oven. Things like extra kitchen towels (which is a drawer you open once a week, only to switch out a new towel), her baking tools, outdoor grill accessories and sippy cups for her grandchildren who visit once a week. I asked her 3 questions:
What gets in the way of your cooking flow?
How many times per day or week do you cook?/What does your schedule look like?
What do you use a lot of (i.e. tupperware, bakeware, small appliances)?
These 3 questions are important to ask because they will say a lot about a person's flow inside their kitchen and that is also how I can curate a personalized system that will cater to their lifestyle.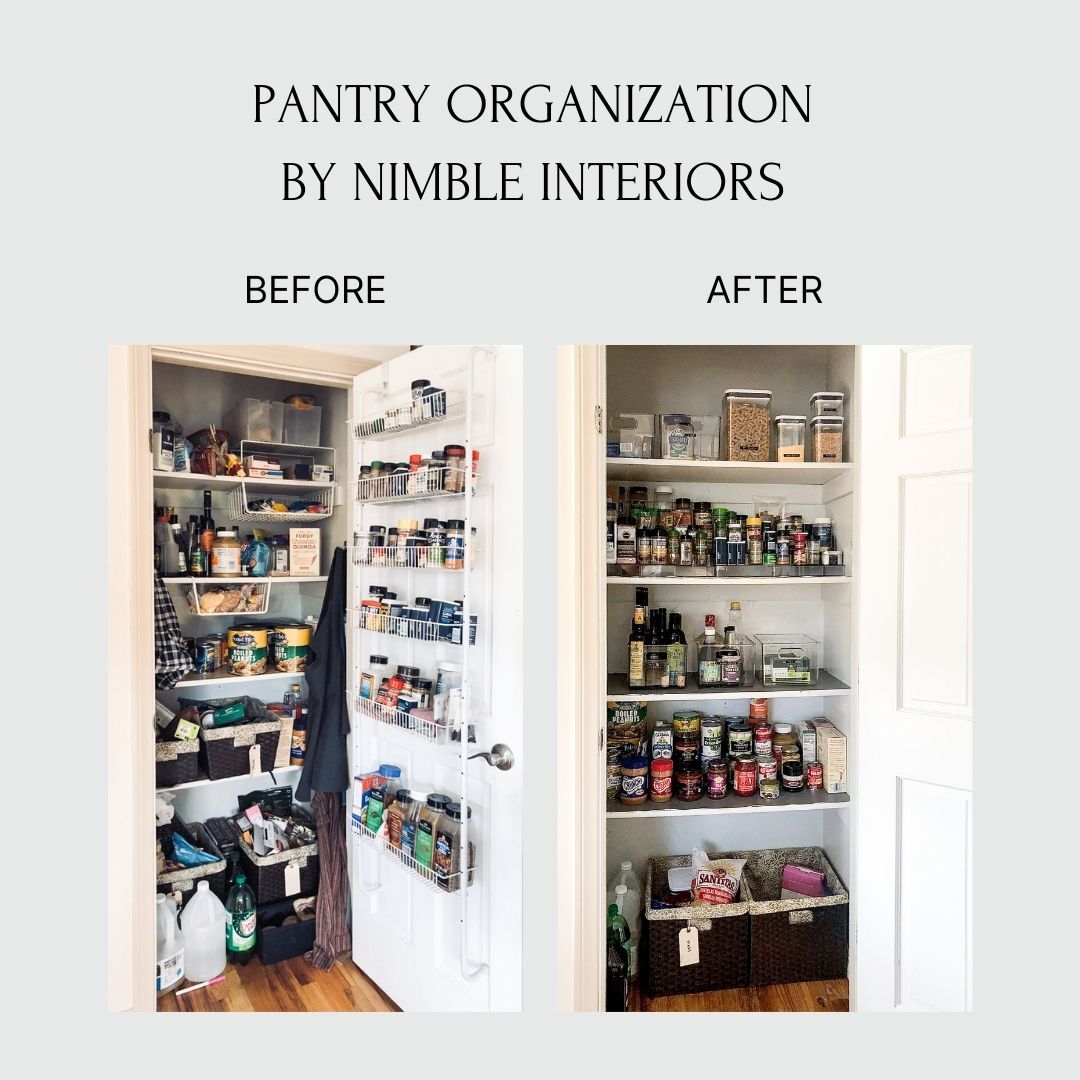 The main thing we tackled aside for recreating a new "work flow" was her pantry. She is a great lover of spices, however had such a large quantity of them, she lost sight of how many had expired. We got rid of 2/3rds of them and it took me 1 hour to go through them all. I see this in almost every home. (Here's a free tip: limit yourself to 8 spices. balance it out between spicy, sweet, savory and earthy. If a recipe calls for a spice you don't have, get creative with what you do have! I'm a mega foodie, I cook every kind of dish and my 8 trustee spices have never let me down.
Declutter your mugs
Many people seem to have more mugs than we need and they take up a lot of space. Take a moment to declutter your mugs, only keep the ones that you love.
Pro Tip: If you are investing in new mugs or glasses, make sure they are stackable to save space on your kitchen shelves.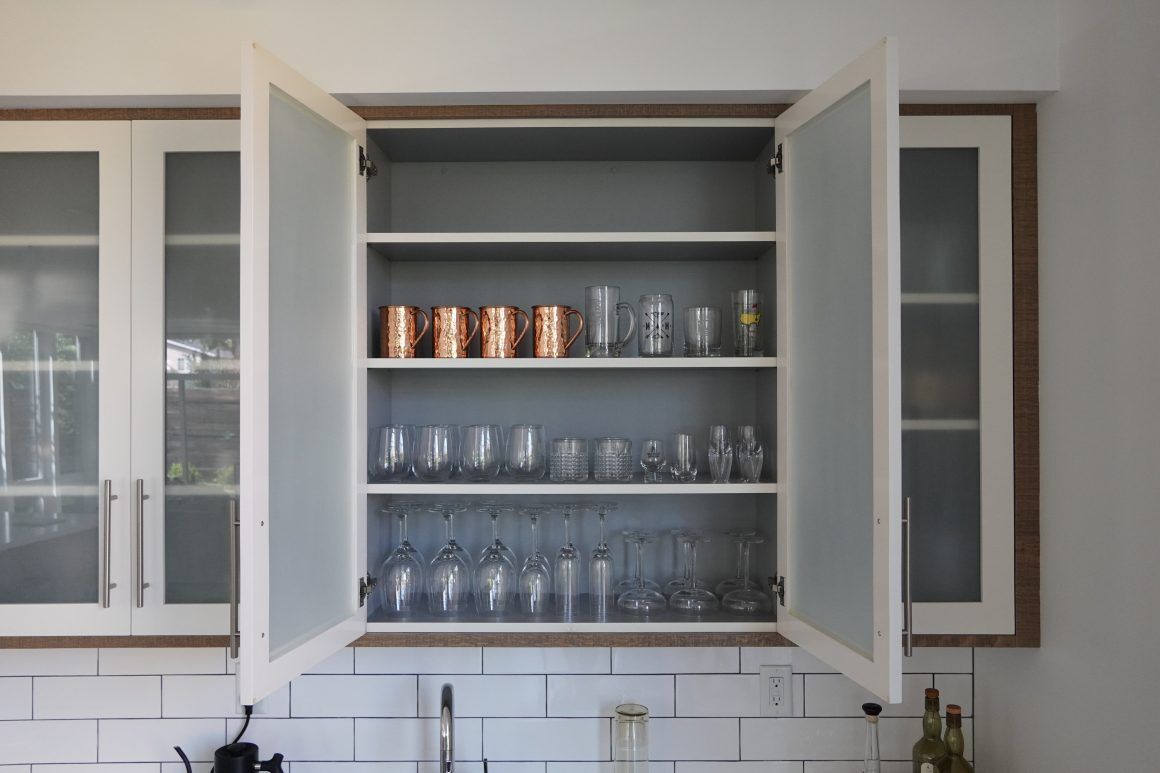 Now let's look at some drawer systems that can help us stay organized in the kitchen.
Storage Bins
This is a great way to organize your kitchen tools that might come with lots of different pieces and make it easy to find. For example, a food processor has many different parts to it, and sometimes you may want to throw a few parts into the dishwasher whereas the lid might only need a quick rinse. Instead of having that lid sitting on your countertop for the day, it can already be placed back into the "food processor bin" and once the other parts are cleaned, they can join their buddy in the bin at the end of the day!
Budget Choice: iPegtop Wire Storage Baskets
Practical Choice: iDesign Linus Bins
Aesthetic Choice: Cases of Mocha Water Hyacinth Storage Bins with Handles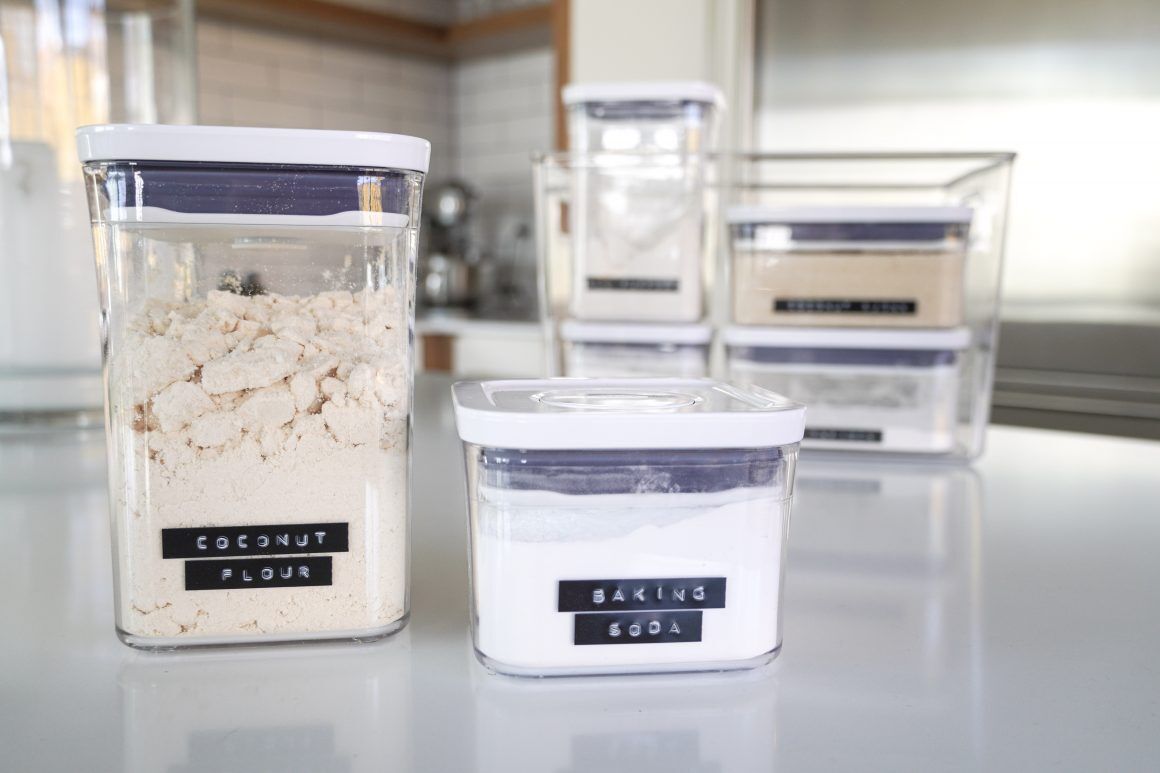 Expandable Dividers
These help you divide your drawers into sections. You can use these for everything from cutlery to other kitchen tools, or to keep drawer organizers in place.
Budget Choice: mDesign Adjustable, Expandable Drawer Organizer/Divider
Practical Choice: Bamboo Drawer Dividers
Aesthetic Choice: iDesign Expandable Drawer Dividers
Drawer Organizers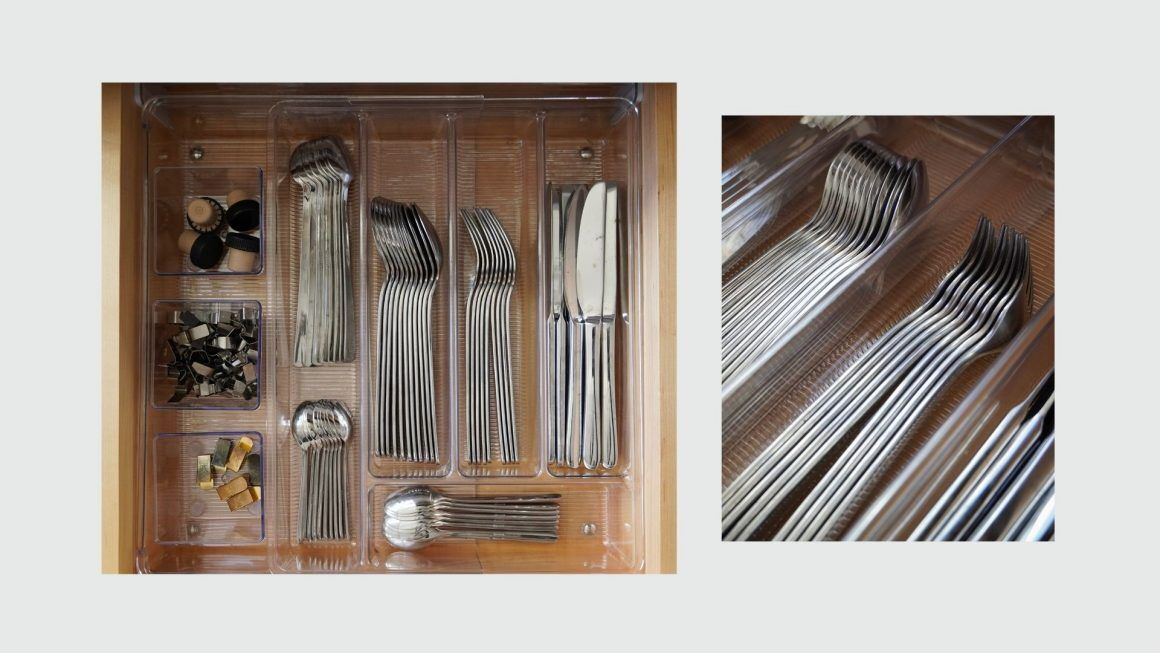 These are so great to keep all your cooking spoons in place or your measuring cups. I use them for all of my small cooking tools, and organize them categorically.
Budget Choice: VARIERA Ikea Flatware Tray, bamboo
Practical Choice: iDesign Linus Shallow Drawer Organizers
Aesthetic Choice: Yamazaki Home Expandable Cutlery Drawer Organizer
Food Containers
I'm sure you've seen hundreds of pictures on instagram of perfect pantries with matching food containers and pretty little labels on them. Although you might roll your eyes at the excessiveness of this, I actually find it helps keep your pantry organized to where you can much better see if you're running low on things, as well as not lose sight of things that often get stuck in the corners of your shelves. Before you get nervous about instantly turning into a soccer mom, consider the practical aspect of prolonged shelf life from suction-capped containers, less spills thanks to the sturdy shell your rice now sits in, and no more cussing when you realize you actually ran out of flour.
Practical Choice: Oxo Good Grips POP storage containers
Aesthetic Choice: Weck Jars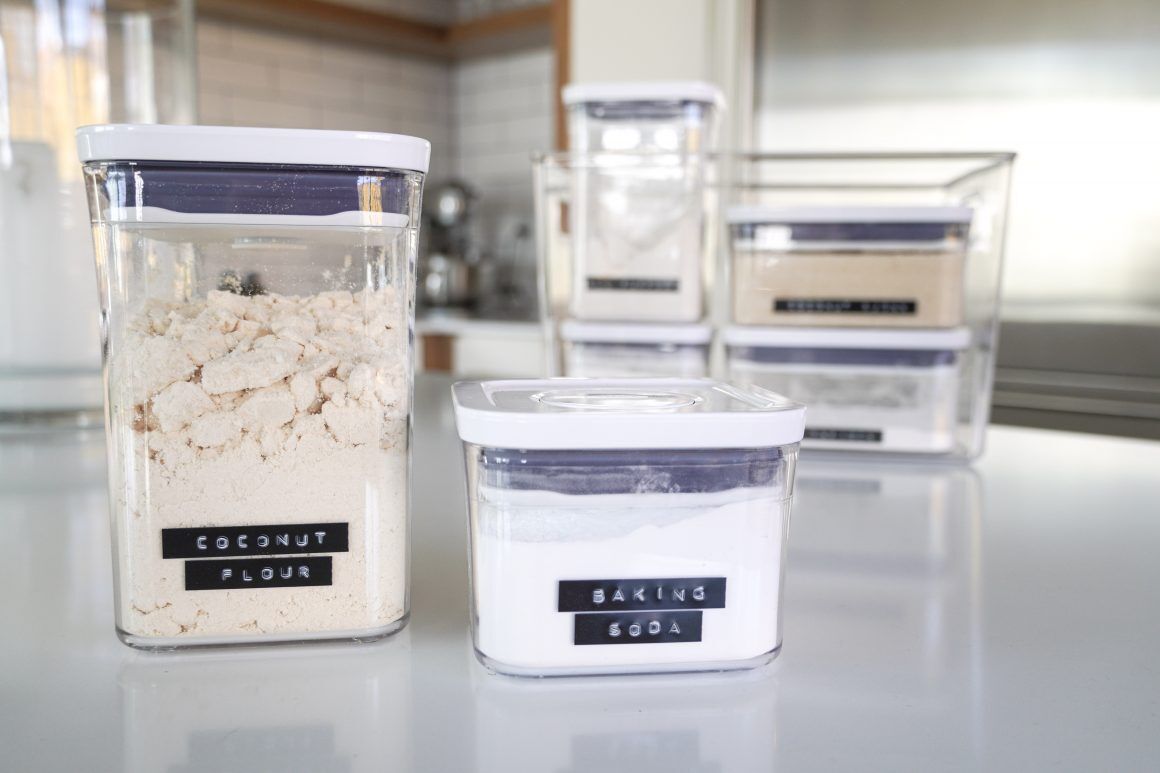 Spice Storage
One thing most kitchens seem to have an overload of is spices. Here are a few different options of how to store them in a great way. (photos)
Budget Choice: Glass Spice Jar by Crate and Barrel
Practical Choice: 22oz Glass Medium Stackable Jars with Plastic Lid – Made By Design
Aesthetic Choice: Mini Weck Jars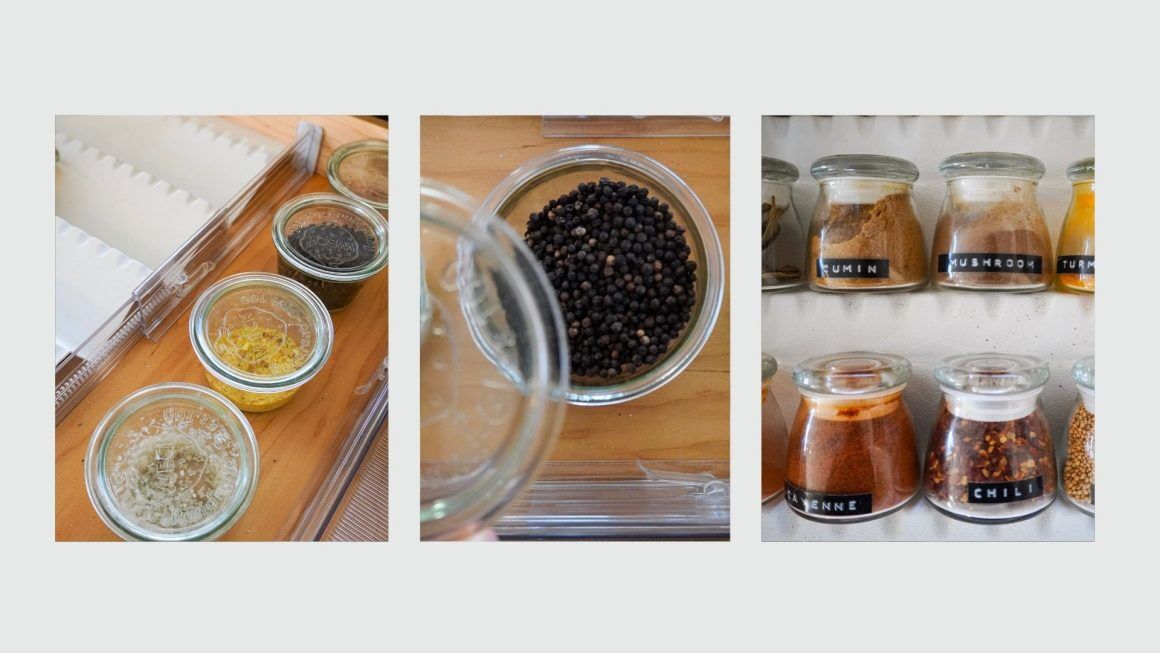 Labeling Food Jars
There are so many different ways to label your food jars. I love this Dymo label maker. I use the black film that prints in white but you can get all sorts of different colors!
What does your own closet look like?
I love the concept of only owning enough clothes for a 14 day trip. It's a wardrobe that is built around living a minimal, intentional life. Conveniently, I look best in black, so I almost exclusively own black clothes, which also makes my laundry day really easy– one load and I'm done.
The tips I share on organizing a closet works with any closet size, but I highly recommend re-evaluating which clothes you wear and don't wear, as you start to reorganize your system. If you haven't worn something in 4 months (not counting seasonal items), take a moment to ask yourself if it is actually still worth keeping?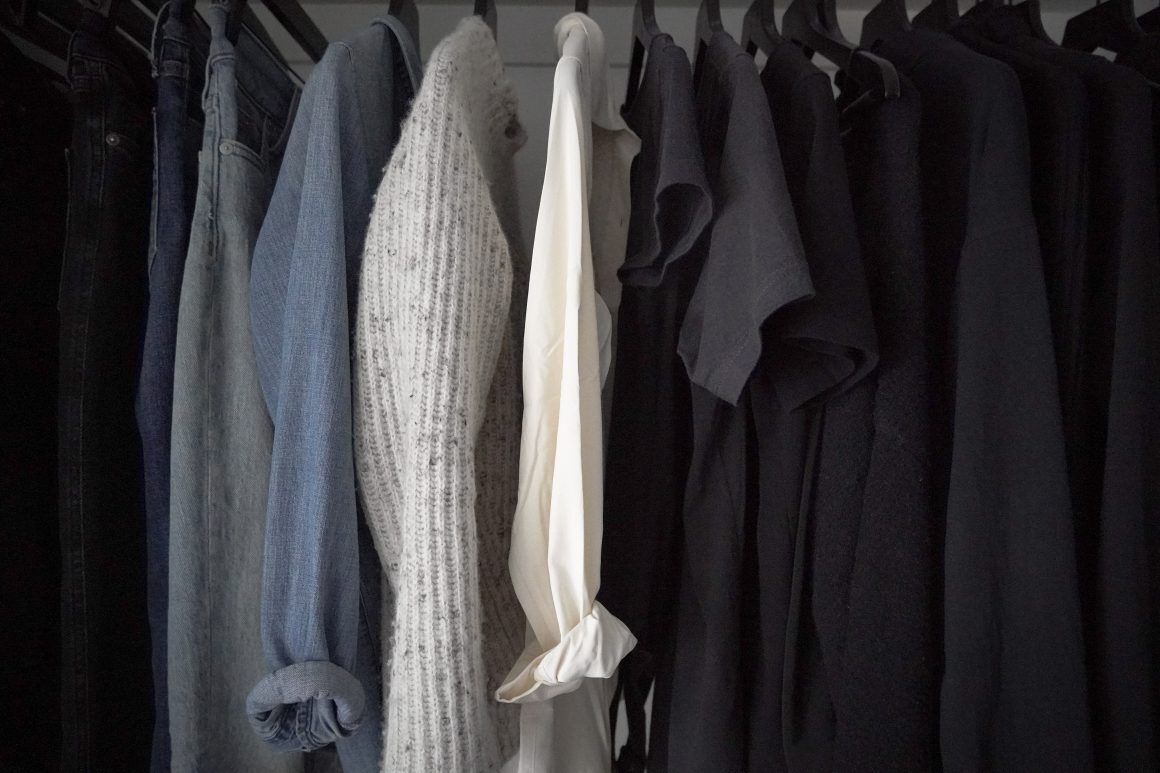 Tip 1- Seasonal Clothes
Fold up your seasonal clothes and put them in storage (I live in Utah which has 4 seasons, so my summer clothes are in storage for half the year).
This will help you get an easier overview of what you have by making your wardrobe feel less cluttered.
Tip 2- Categorize your clothes
Decide if you want to categorize by color, thickness, length, etc. I organize my closet by color, and within the color groups, from thickest to thinnest (the thickest pieces are on the end of the rack and the thinnest/shortest items towards the middle of the rack).
Tip 3- Hang your pants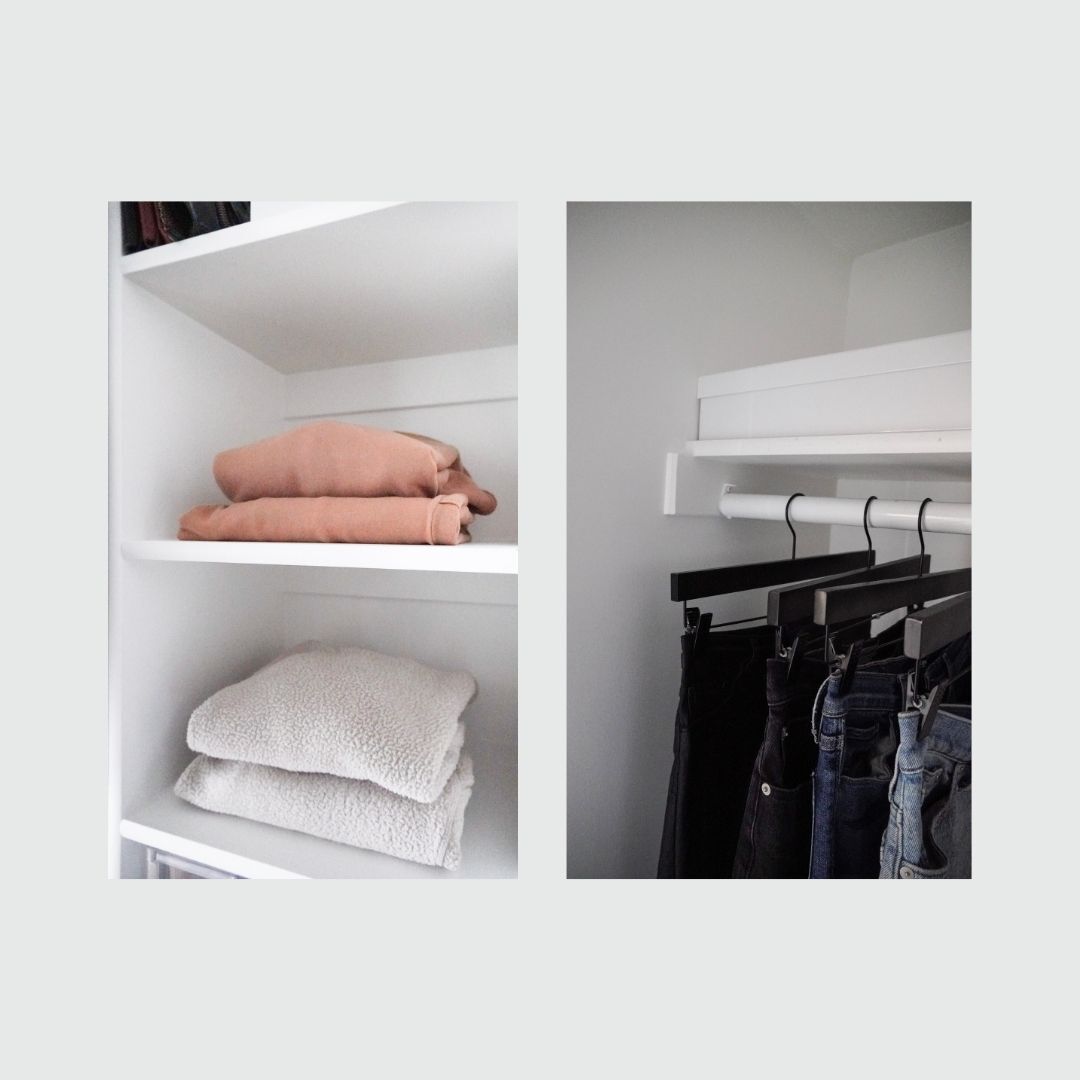 This takes up much less space than to fold them, and if you have dress or linen pants, it prevents them from wrinkling.
Tip 4- What to fold
Fold two-piece outfits like loungewear in separate shelves
Tip 5- Bags
Store clutches and purses in bags. This frees up a lot of space in your closet.
Tip 6- Accessories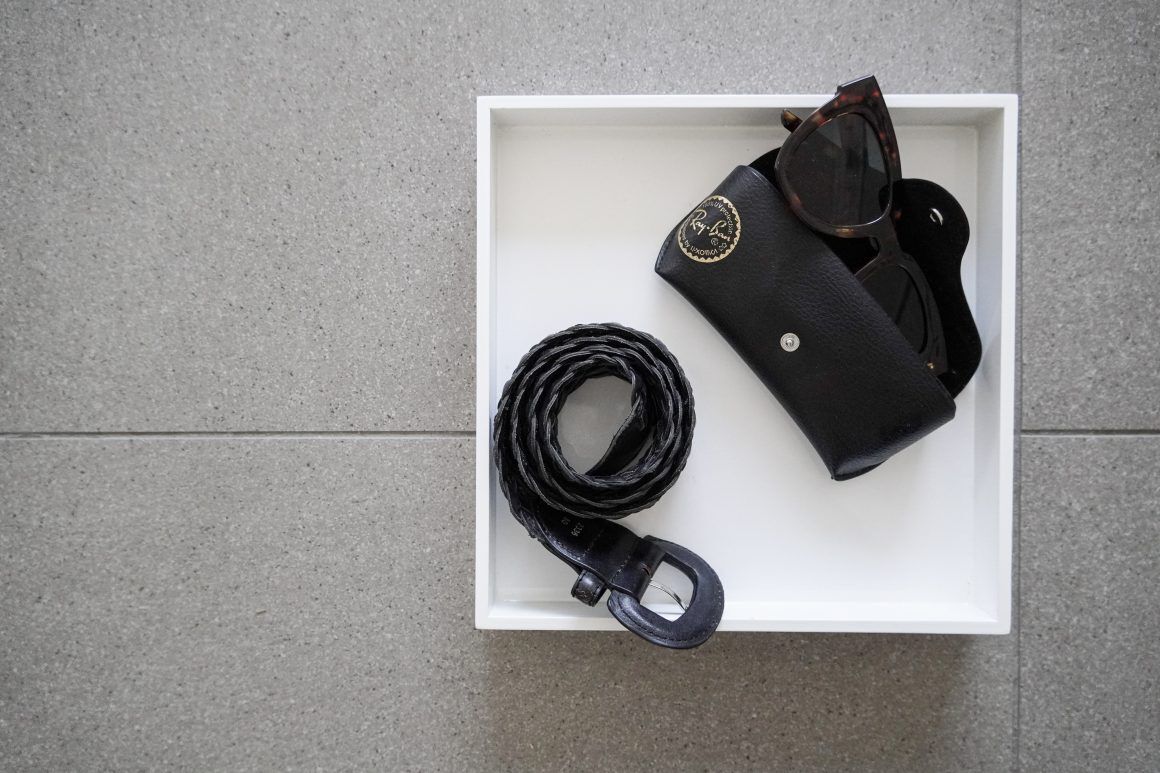 Pick a beautiful tray to put accessories like belts & sunglasses on. That makes it easy to look at as you are getting ready for the day.
Tip 7- Dress Clothes
Hang your party dresses separately as they are likely worn more rarely than your other clothes. If you have a freestanding garment rack, you can display these pieces somewhere visible in your room to show off your sunday best! This works especially well with monochromatic concepts.
The images below are from our friend Sulaine Penick, who is using this system for her wardrobe. She is using a freestanding garment rack you can find HERE.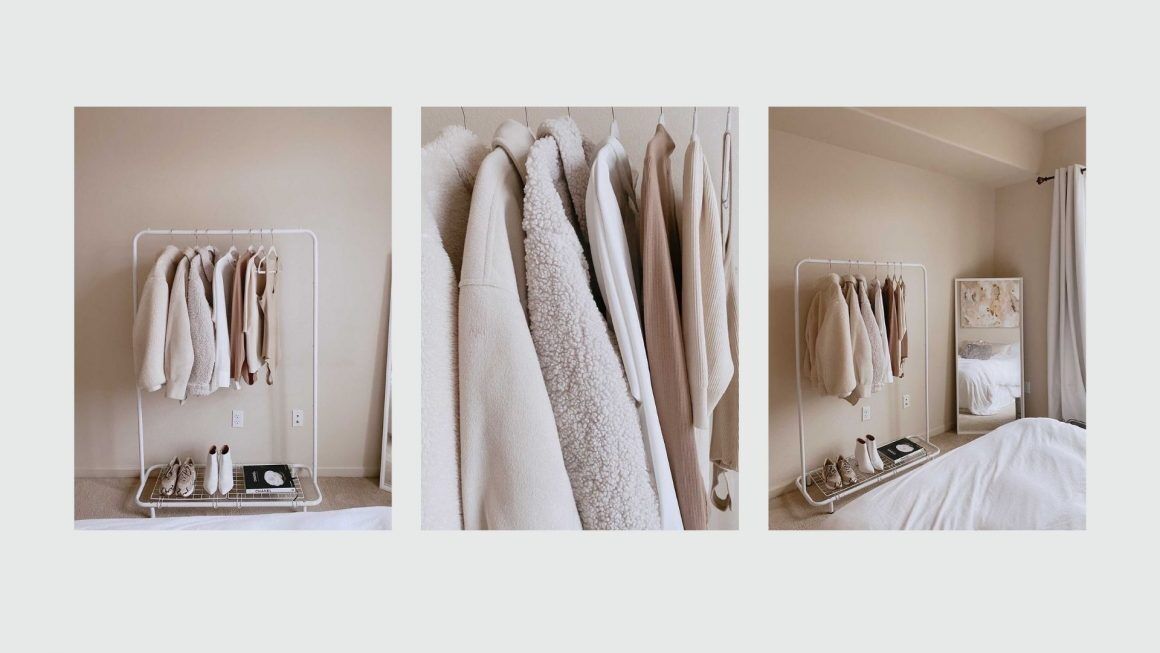 Tip 8- Storage Cubes for Shelves & Drawers
Everyone's closets are built differently. If you live in a place where you have open shelves but no drawers, invest in some storage cubes that can double as drawers. This is a great way to store your socks, underwear, sportswear or anything that you have a large quantity of. My husband collects "Stance" socks, so this system works really great for him!
And speaking of his socks… When it comes to folding, he uses Mari Kondo's method. Her method makes any drawer feel very clean and organized, but it also helps him know what options he has available for the day.
Tip 9- Jewelry
Get small boxes or pouches to store each accessory in separately, to avoid damage or tangling.
Tip 10- Hats
Felt hats usually hold up best if you hang them on the wall. This helps them keep a great shape. Baseball caps can be stored with the back folded inwards, and stacked on a shelf.
Tip 11- Shoes
Shoes always seem to be challenging to organize in a way that is both practical and esthetically pleasing.
If you already are a highly organized person and have a decent sized walk in closet, I suggest arranging them on the floor, in a row from tallest to smallest. This system works best for me because I find it looks the least cluttered in that way. If you have a large amount of shoes, or you don't have a lot of closet space, I suggest a beautiful shoe rack by your entrance, mudroom, or inside your closet.
Budget Choice: The most budget friendly (and minimal) option is just to line them up nicely like I do. If you want to level up slightly but still keep it low budget, adding a beautiful runner rug you love might be a great option for protection of both your floors and your shoes.
Practical Choice: Tower 6-Tier Wood Top Shoe Rack in Various Colors
Aesthetical Choice: One of the most aesthetically pleasing ways to store your shoes that I have seen is actually at my sister's house. She has three kids so there are a lot of shoes to store away. She used ikea's PAX wardrobe system and created her own shoe closet in that way.
Tip 12- Coats
Coats can be organized from the thickest to the thinnest or most used to least used.
Tip 13- Scarves & Beanies.
The best way to store scarves are to roll them up and store them in a cute basket. Beanies are easily stacked and stored in a basket or a bin as well.
What are your thoughts on bathroom organization?
I recommend keeping a small amount of things out on display, and only the aesthetically beautiful items. I like using the drawer organizers I talked about in the kitchen section. Something I often see is that people will have their toothpaste and toothbrush out on display. I recommend stowing the toothpaste in the top drawer, and finding a beautiful toothbrush, for example ones made of bamboo that look really classy on the countertop. Plus, they are much better for the environment too!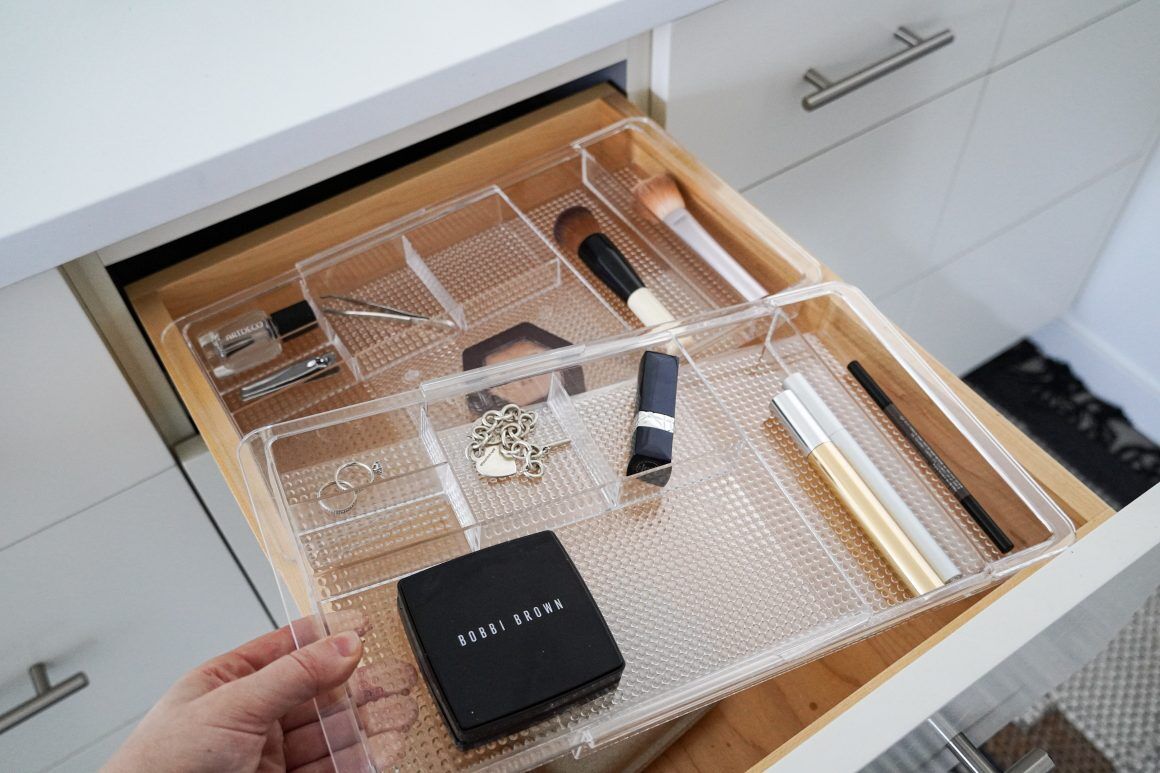 Tip 14- Towels.
I love to put my towels on display because it invokes a warm and welcoming feeling. I love that experience at hotel and restaurant bathrooms, so I always encourage clients to make space on their vanity for a pretty tray with some rolled up hand towels. Plus, it serves as a decorative element so you've already minimized the amount of items needed in the bathroom!
Tip 15- Medicine or supplements.
I store pills that I take each day in weck jars and infinity jars instead of having those generic medicine bottles out on my countertop. I love using Weck Jars because I already have them in my kitchen, and I love Infinity Jars because they are ultraviolet, which improves the potency of stored materials through the energy of the sun.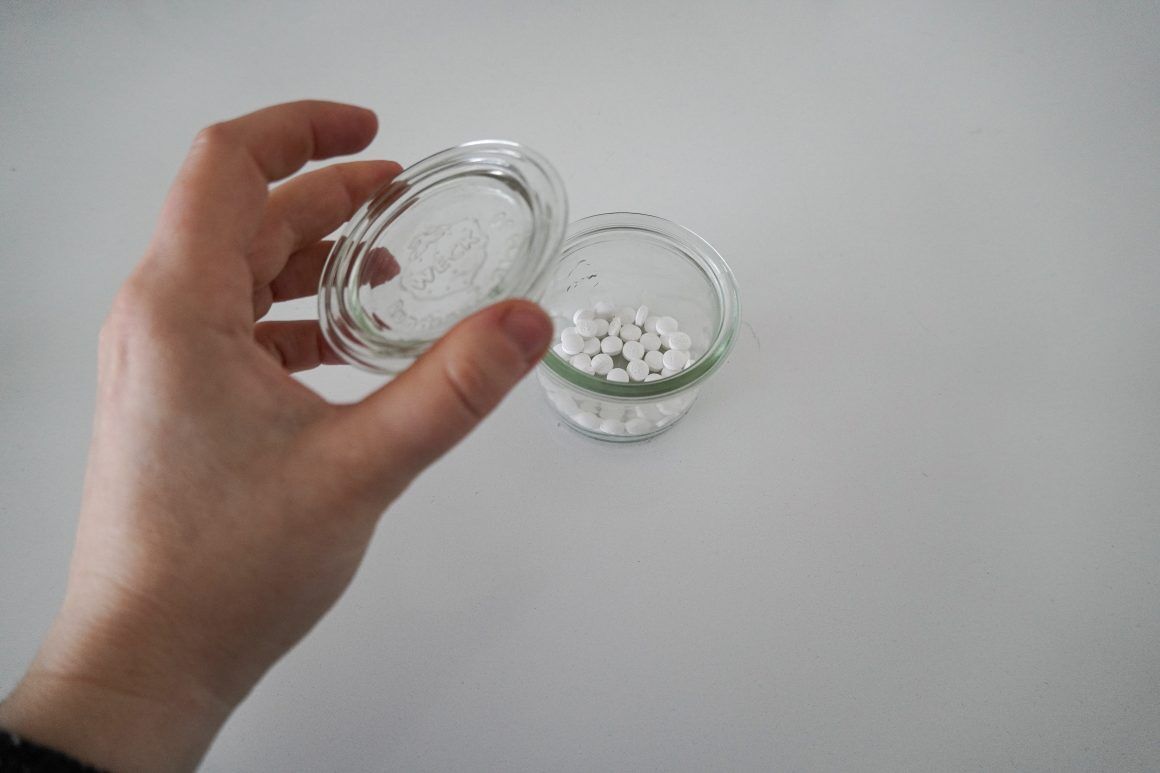 That was all for today friends. I hope you enjoyed this post on Personalized Organization with Nimble Interiors as much as we did making it. Hopefully you got some great new ideas and tips of how you can organize your own home. I know I sure did!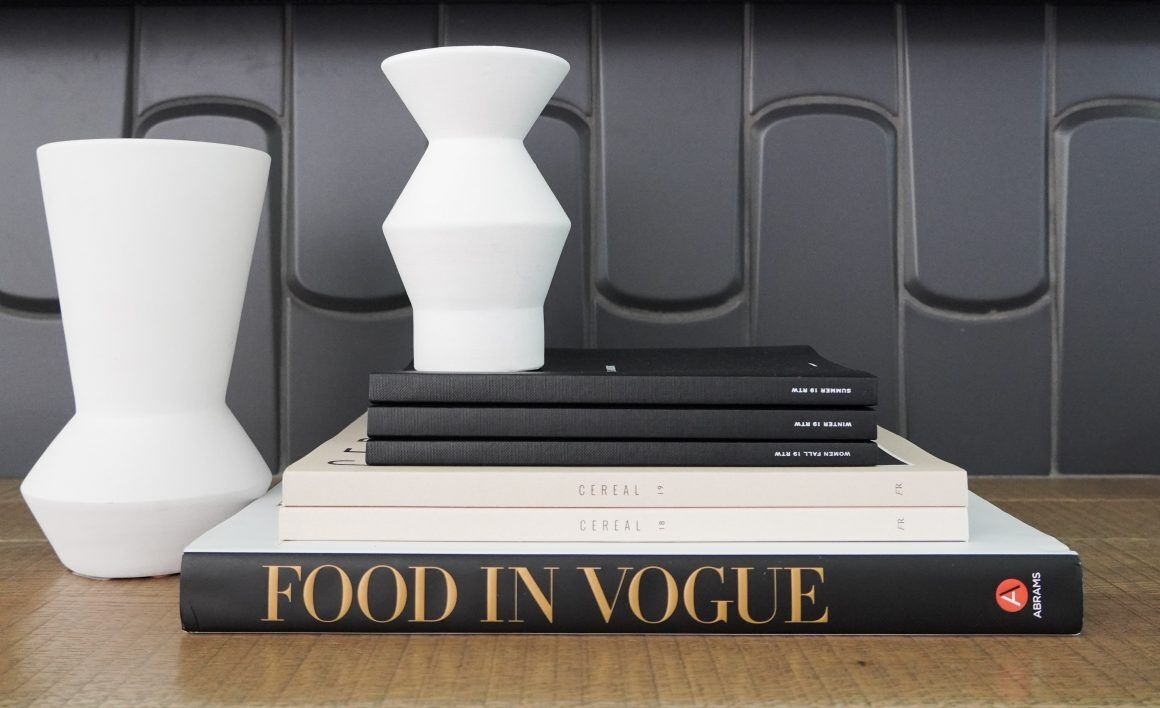 Until next time,
HEJDÅ!
(goodbye in swedish)
// Josefine from Scandinavian Style House