7 Simple steps to a Scandinavian Bedroom
In this blog post, we will give you 7 simple steps to a Scandinavian Bedroom. We'll cover all the different parts of the room and share what to think of when you're picking furniture or deciding on style and color.
Let's get right into it.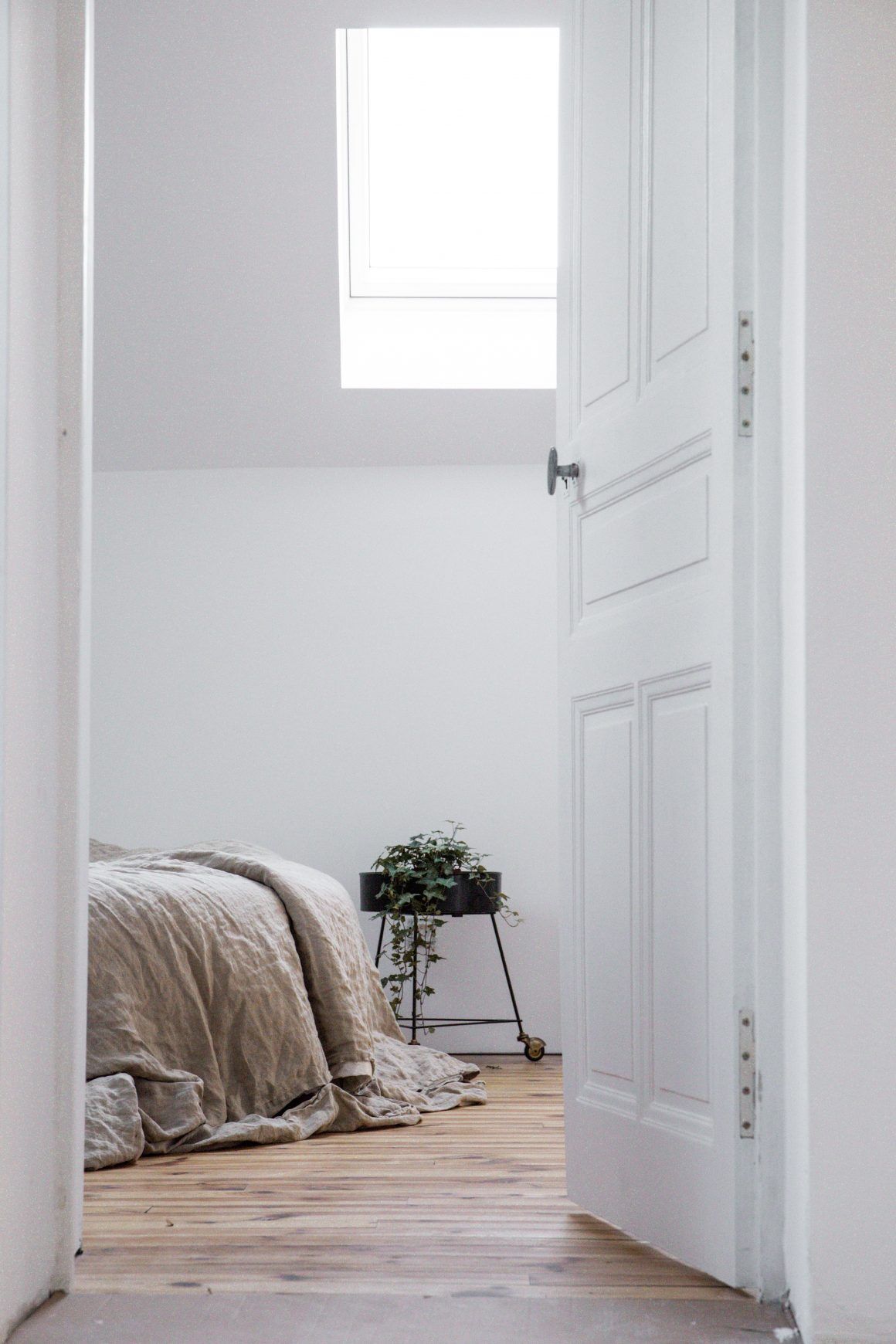 1. Textures
This step is more of an overall vision than a specific action point. Scandinavian Design is all about celebrating the raw materials in nature and letting them be the heroes of a space. Therefore, Scandinavian Interior Style is often very clean and minimalistic with a focus on combining neutral textures. As you start your journey towards a more Scandinavian looking bedroom this is good to keep in mind. Look for pieces with a lot of texture, and work to combine a couple of different textures in the room.
Here are some examples of what we mean with texture. A wool blanket with a heavier weave, visible wooden grains in some of your furniture, brass or glass pieces, stone-tabletops, or wrinkled linen curtains. What I love most about the Scandinavian style is that because the colors are usually very muted or neutral – it makes it very easy to mix textures, and the result of doing that is stunning.
2. Colors
As you start your journey of making your bedroom more Scandinavian here's the first thing you can do to set yourself up for success. Decide on a couple of colors and/or textures that you'll stick with throughout the room. This is gonna give your bedroom a cohesive feel and a sense of peace and intentionality. Less is definitely more here.
If you want it to have a Scandinavian Look you wanna go with a neutral color scheme, and depending on if you want a light and airy look or a more moody one you'd choose your different color shades accordingly.
If you want a touch of color , choose colors that are a bit muted and on the "earth toned" side of the color spectrum. These colors usually work really well with other neutral colors and materials that you bring in. This makes the process of matching all of your other pieces a lot easier down the road.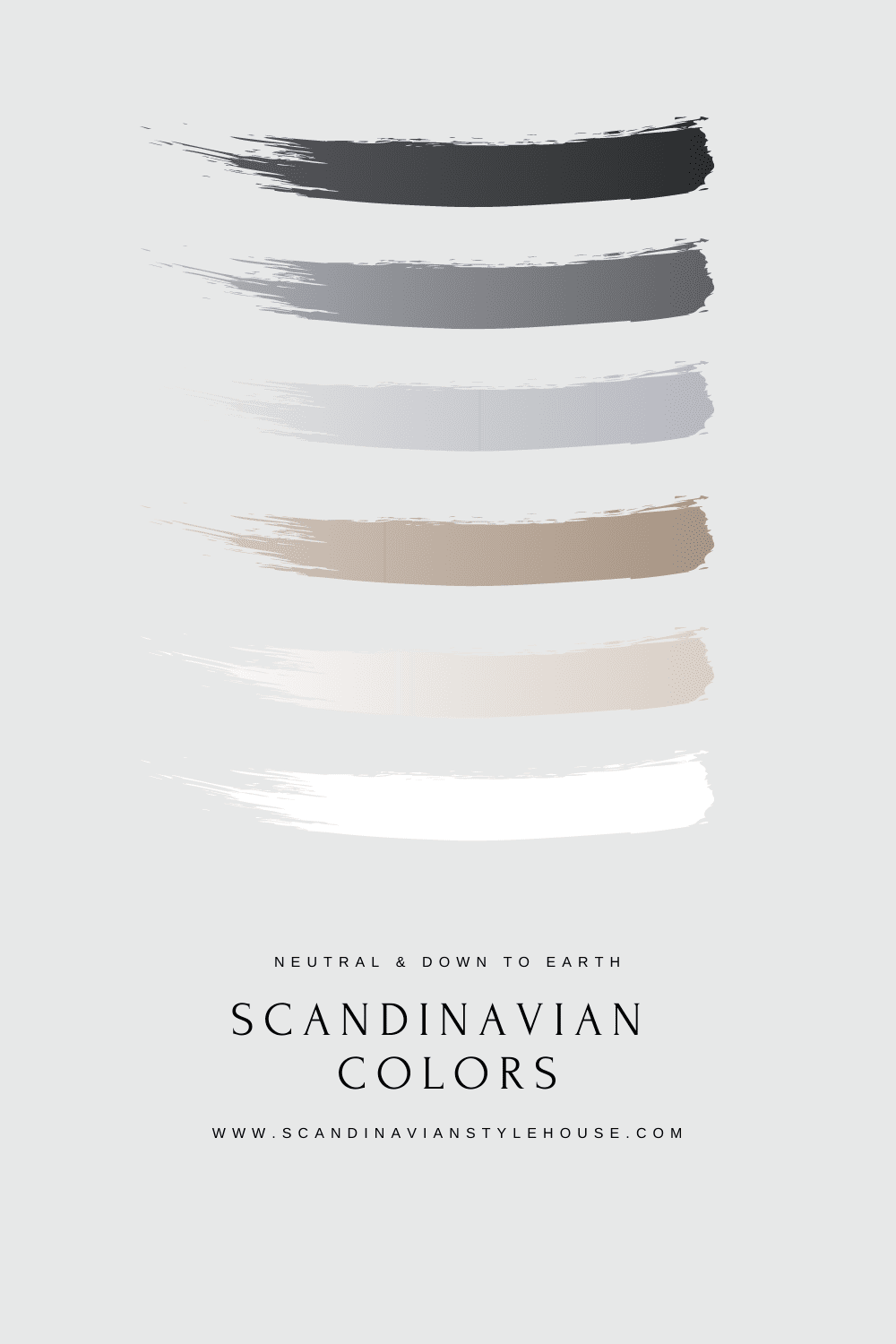 3. Furniture
Color:
Just as with your overall colors, when it comes to picking furniture you wanna stick with neutral colors in your furniture as well. With neutral I mean every range of color from whites to grey's and blacks and whatever the natural texture your piece of furniture has.
I like to pick a theme of one or two textures as well and stick with it throughout the room. If I choose white furniture as a base I might either just go all white and monochromatic. Another route I could also go is to add an oak piece in a light stain where you can see the beautiful wooden grain. Or I might choose some black details to balance up all the white.
Design:
Another thing to remember when you want to pick Scandinavian looking furniture is to choose things that have a sleek feel to their design. Some pieces can definitely be on the heavy and bulkier side, but a common thread in Scandinavian design is it's minimalism. That often means furniture pieces that are quite slim.
Let's look at choosing a wooden side table for example. If you choose one with thinner legs and body it will look a lot more Scandinavian. If you choose a heavier one you'll have a style that might feel more "Farmhouse" or "Rustic". A last note on materials is that the wooden stains that look more Scandinavian usually are on the lighter side. The darker the wood stain, the more "Mid-Century Modern" your style will be.
4. Fabrics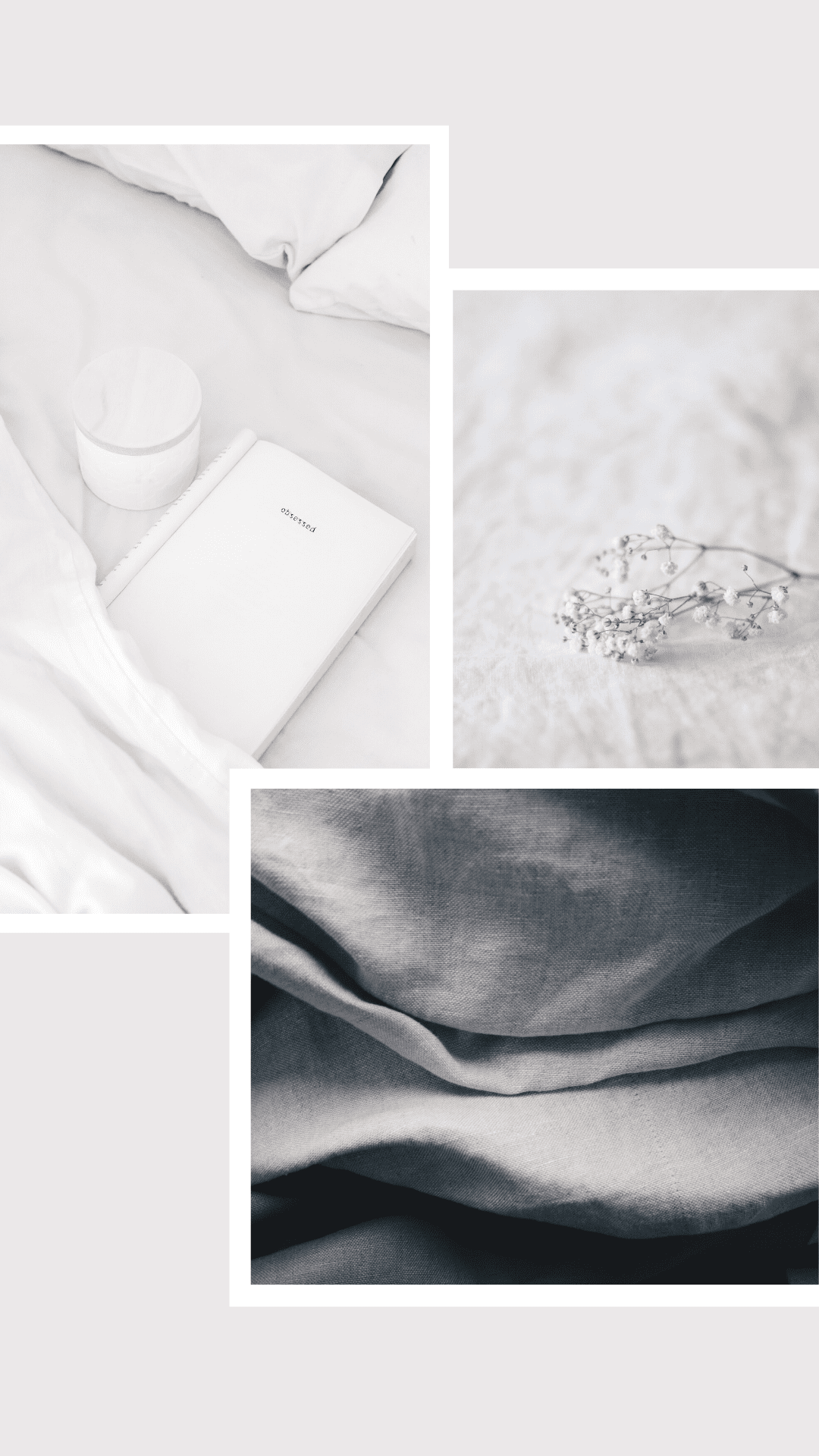 Bedding:
When it comes to bedding you have a golden opportunity to add some great natural textures to the room. You wanna go with minimal patterns and stick with earth tones here as well. My absolute Favorite material for bedding is linen. It is both extremely soft to sleep in and a very breathable fabric which is perfect for hot summer weather. The wrinkles in it also adds a lot of warmth and makes the bedroom feel very cozy and down to earth. If you want to know more about this material I wrote a post about it here.
Throws & Blankets:
A beautiful way to play with the color tones here are to use blankets or throws in a different texture and a color that matches something else in the room. In the winters I have my favorite grey woolen plaid as an extra layer and texture. In the summers I used to switch up the covers for my decorative pillows to an earth tone green or a dusty pink hue. I therefor also had a throw that matched those hues that I put on the bed.
Pillows:
Speaking of pillows with interchangeable covers – this is my best life hack to switch things up easily. Make sure you buy decorative pillows where you can change the covers. This make is easy both to keep it clean and fresh without the pillows losing their shape. But it also makes it easy to switch the style up easily without too much effort. And the best thing with neutral tones is they go well with pretty much everything, so you don't have to worry about things mismatching.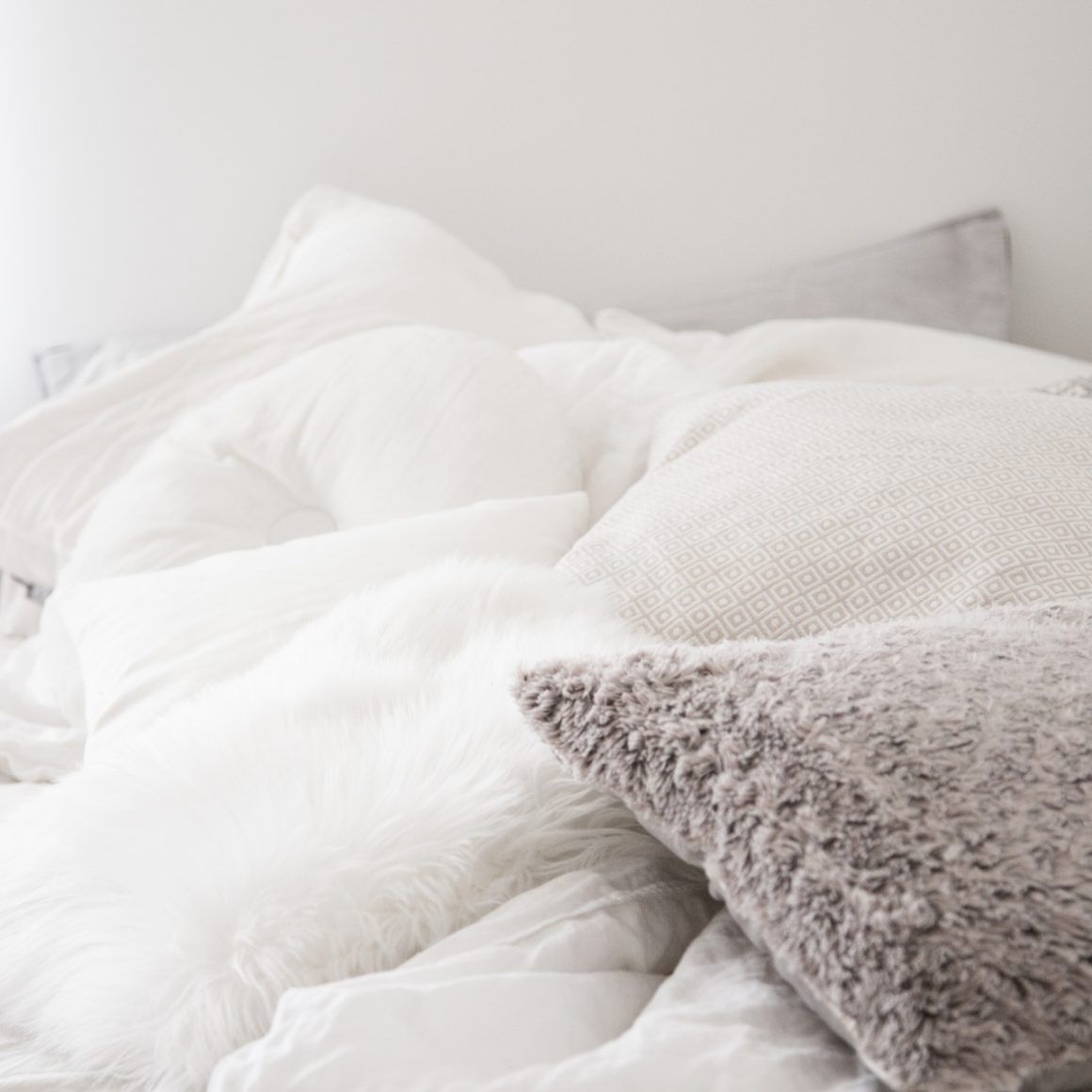 5. Artwork
Style:
Art has a powerful way to set the tone in any room. The Scandinavian Style is all about minimalism so I suggest you keep the motives quite minimal. A good thing to remember is to look for motives with a lot of empty space. This is something I learned from my time in photo school. They taught us that just as important as the main subject is – so is the space around it.
You don't want to choose a piece of art where it feels like someone tried to cram as much as they could into the frame. That is just gonna feel very busy. Instead choose something where there is enough empty space around the main subject for it to feel peaceful and balanced. Less is more here too. If you want some inspiration on what minimalistic art you could look for, I have a whole Pinterest board on that topic here.
My current Favorite Minimalistic Artist is my friend Malin at LYSS STUDIO. She does the most amazing line drawings that you can find here. To read an interview I did with her about her art and creative process click here.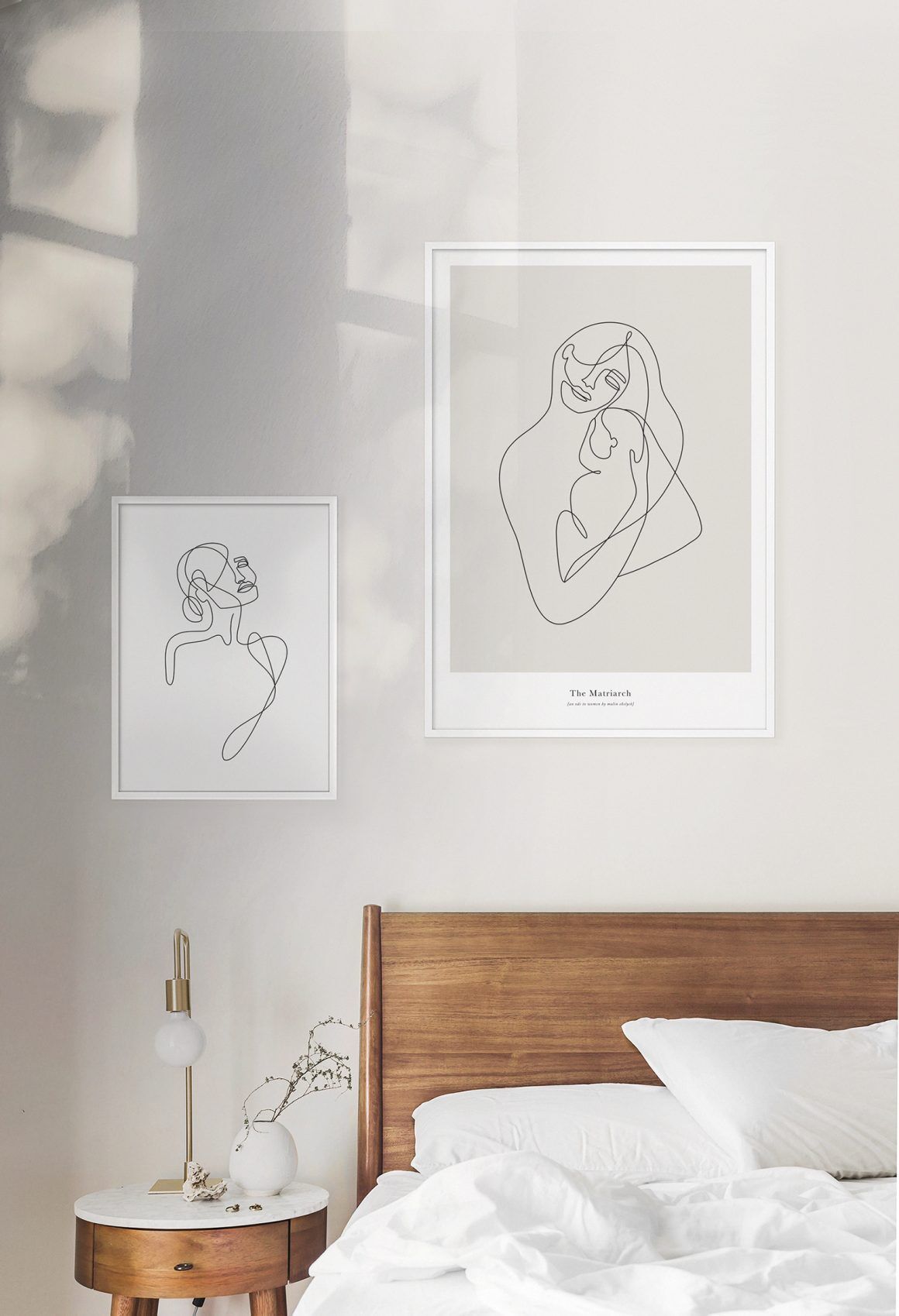 Word Art:
One thing I find really powerful is to use words, sentences or quotes that mean something to you as art. You can either look for other people's work, or pick your own fonts and quotes and have them printed yourself. If you do it yourself you want to pick a minimalistic font. I have a Pinterest board for that too that you can check out here if you want.
Frames:
When you've chosen your artwork it's time to frame it. Depending on the textures or colors you chose for your furniture you might want to match those with the frames. It makes for a cohesive look that goes well together.
6. Decor Items
Decor items are so much fun. They are like the cherry on top of the milkshake. When picking your Decor Items for your Scandinavian Styled Bedroom you want to be very selective though. Because if you use a lot of them it might just make for a cluttered look which is the exact opposite of what you're looking for.
I have a rule of thumb when it comes to decor items. For them to make it into my home they have to Both be functional and stylish. If something only measures up to one of those criterias I usually don't get it. Take a step back and think about what functional items you actually need, and set out to find a piece that does the job while still being aesthetically pleasing. As always, you wanna stay within the color schemes you've already chosen in the beginning. If you have any specific accent colors you're looking to add, getting decor items in those hues might be a great idea.
7. Lighting
What to consider:
The lighting in a room sets the mood like nothing else. When picking your lighting first decide on what functions you are looking for. Do you spend a lot of time reading in bed and need a good reading light, or do you just need something to make it cozy once it gets dark? Do you need a good light for when you are trying out your outfits for the day or do you do that somewhere else in the house? Other aspects that affect your lighting choices is how much natural light gets in during the day, and whether your room has a ceiling light or not.
Style:
There are so many options and ways you can go when picking the style of lamps and lighting. A lamp can be the bold eye catcher of the room and work almost like a piece of art. It can also be more subtle and just let the other parts of the room shine. You decide what works best for you. I usually go for the more subtle kinds of lamps but there is no right or wrong here.
A rule of thumb for me is I also try to stick with the theme of the rest of the room. If I have brass knobs on my dresser I like to go with a brass lamp stand to continue on the theme. If I have matte black metal legs for my nightstand I might want to find a matte black metal lamp stand to go with that.
Lightbulbs:
After you've picked your lamps you want to make sure you pick the right light bulbs for the kind of lighting you want. I generally like the warm more yellow light better in a bedroom than the colder light that is a bit on the blue side. But again, this depends on what your needs are.
Extra Bonus Tips to Remember
White or lighter colors makes things feel bigger, and black or darker colors makes things feel smaller or closer together. Depending on what the size of your room is you might want to make different decisions depending on what you have to work with.
When I lived in Stockholm I lived in a tiny apartment so my main focus was to bring in as much light in as possible. My theme there was all white furniture and glass details. If I had a really big space to fill, let's say an open kitchen and dining area with lots of natural light coming in, I might play around with adding some darker hues to make the space feel more connected and balanced.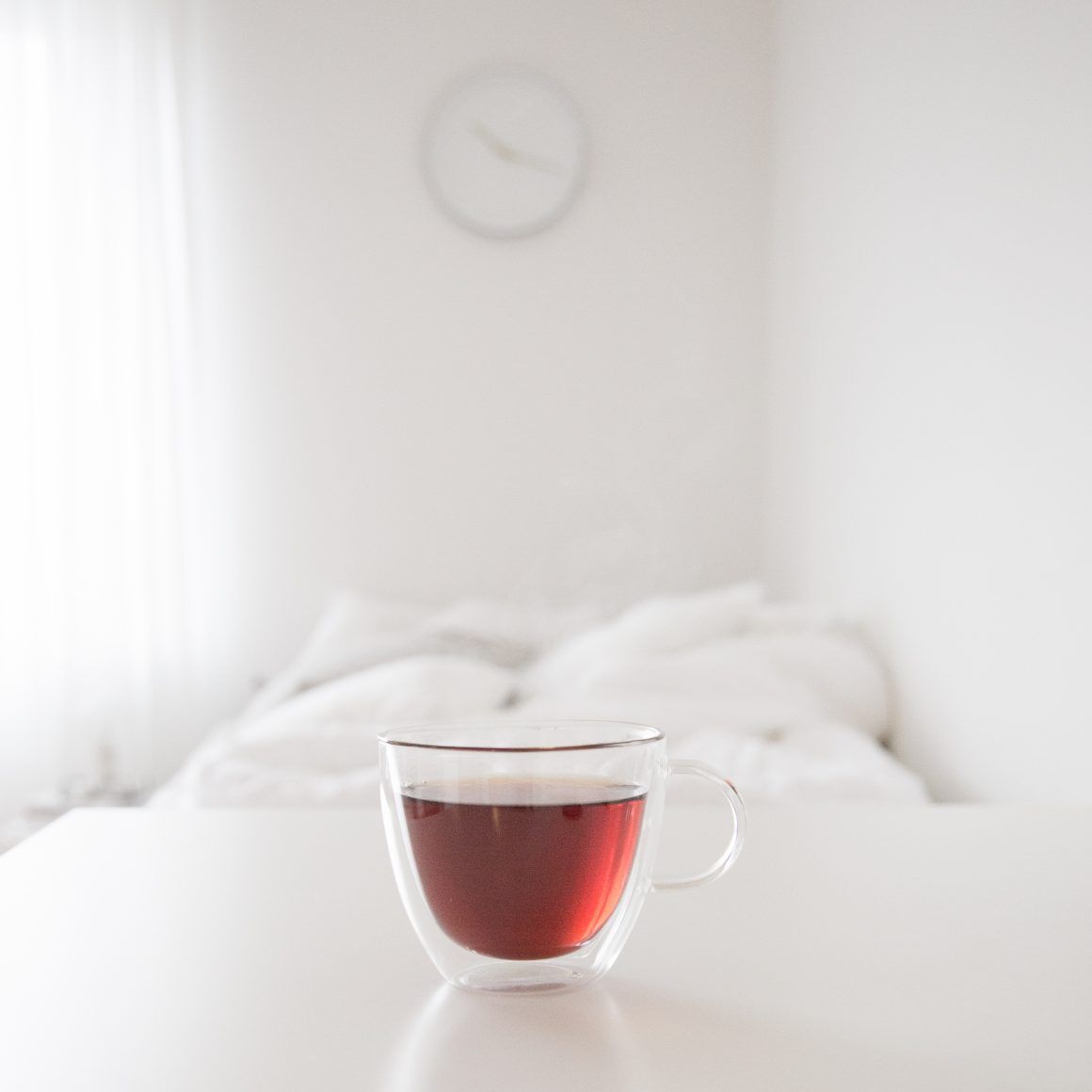 That's all for today.
We hope you found our 7 Simple steps to a Scandinavian Bedroom helpful. If you have any thoughts or comments, or there is something that we missed to cover that you are wondering about, please let us know in the comments!
Until next time,
Hejdå!
(Goodbye in Swedish)
// Josefine from Scandinavian Style House